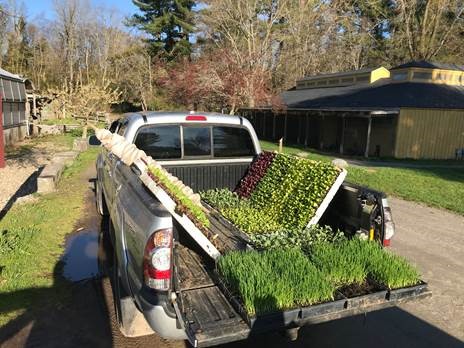 Beautiful weather the first weekend in May helped us make progress in our crop establishment work. On the back of the truck, you can see onion starts in the black trays and lettuce and Chinese broccoli seedlings in the white.
Last Thursday morning we harvested arugula from the field for the first time in 2020. We seeded it on March 22. Some of it will be going to our partnering restaurants, some to Codman Farm here in Lincoln for resale at their store, and some to Food for Free—a Cambridge-based non-profit devoted to improving access to healthy food, especially through schools. In response to challenges posed by the pandemic, we've been delivering carrots, eggs, and greens to Food for Free for the past month. You can learn more about our food donation program and how to support it here.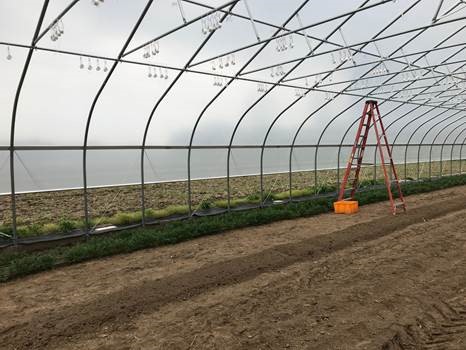 All prior harvests beginning in January and continuing through the beginning of May came from the hoophouse. Above, you can see what was going on in the hoophouse: The green growth in front of the ladder is carrots seeded in mid-February. We plan to begin harvesting those within two weeks. The spools hanging from the hoop house frame, and looking like air quotes, are called Rollerhooks. Each one contains about 100 ft. of twine (several seasons' worth), to which we'll be clipping cucumber and tomato vines. We'll transplant the cukes and cherry tomatoes and expect each vine to grow to be 20–25 feet in length by mid-summer. The riddle to be solved is how to fit that size of plant in a house whose peak is 20 feet tall, and how to harvest near the tops of the vines? We've got a plan for that. Can you guess it?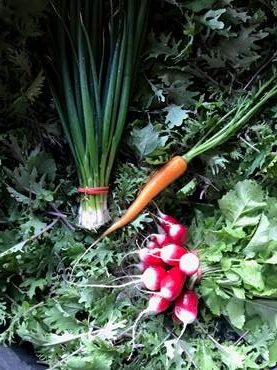 Above is a photo taken yesterday that previews this week's CSA share, the first of the season. We seeded the scallions into trays in the greenhouse in January and then transplanted them into the unheated hoophouse in February. On March 22, we seeded the bi-colored French Breakfast radishes directly into the field where they have been growing under a protective cover ever since. The Red Russian kale was seeded on that same day in March. The lone carrot is a vision of things to come. We seeded carrots into the hoophouse in mid-January; they still need a little more time to grow before we harvest them for you.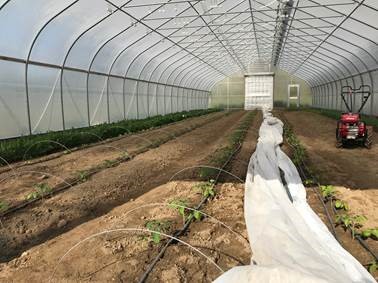 You can see those carrots growing along the Southern (left) wall of the hoophouse. Last week, we cleared out the last of the winter spinach and lettuce and then planted early cucumbers and tomatoes in their place. In anticipation of Saturday night's freeze, we hooped and covered the cukes and tomatoes with a winter-weight row cover. We didn't trust that the hoophouse's single layer of plastic would provide enough protection. All plants looked healthy when we removed the cover this morning. We'll cover the plants again on Tuesday evening as we're expecting another frost in what has been an unusually cold spring.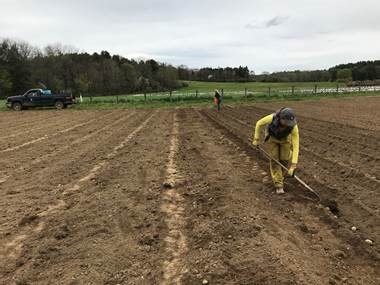 Despite the cold days and frequent rain, we're on schedule with our field plantings. Above, you can see us on Sunday afternoon raking-in the trench holding the last of the seed potatoes. And on Friday, we finally crossed the finish line of 2020's Onion Marathon—48,000 transplants in 13 days. Next up is transplanting sweet corn, trellising peas, thinning beets and hoeing down weeds.
Your Farmers