The eggplant, tomatoes, and melons are loving this warm, sunny weather. There are lots at the stand today, and we'll start picking the larger watermelon varieties tomorrow. Without much rain over the past two weeks, fruit flavors are concentrated and at their best. There has been some morning dew, and a sprinkle here and there—enough moisture to get the cover crops going that we seeded last week. Teachers, now is a great time to walk the fields and investigate the different shapes and sizes of the young cover crop plants!
It's that time of year when people on the Crops team start heading in different directions. Last week, we said goodbye to Kirsty, who had been helping us part-time since April and on Saturday, Margot finished a month of full-time volunteering. We already felt their absence this morning during the restaurant harvest, but we got it done thanks to the pre-harvesting Erica and Maddie did with volunteers Anne and Francesca on Monday afternoon. To those moving-on from Drumlin, thanks for your hard work! To those of us staying, it's time to step up our game! 
At this time of year, we could spend every daylight hour harvesting and marketing the produce, but there are still weeds to control. Last Thursday, our Teacher Naturalist Sally once again brought high schoolers in Lowell's summer employment program to the farm for a tour and some field work. Together, we weeded through the entire sweet potato patch (pictured below).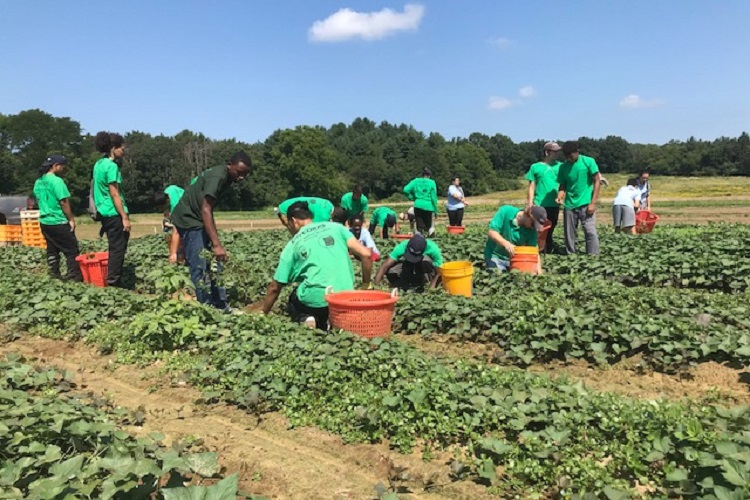 Nice work! My only concern is that now the deer will have an easier time finding the sweet potato leaves—one of their favorite crops. I haven't been seeing deer lately, but their tracks are everywhere, and they are damaging carrots, chard, lettuce and beets. Based on the number of hoof prints, there are more deer in the field than at any time since I started here in 2005. If you see one out there, kindly make it scram!
We're also looking forward to the Fall CSA farm share program starting September 11. Shares include summer favorites like heirloom tomatoes, peppers, and carrots; the best of fall, including parsnips, winter squashes, onions, potatoes, sweet potatoes, and other root crops; and variety of fresh and cooking greens. Register for your spot today!
See you in the field,
Your Farmers