My grandfather, a jazz musician and an entertainer at heart, was a man of one hundred sayings. In the winter he'd quip, "I'll see you in the spring if I can get through the mattress!" And his answer to the basic question "How are you?" was his always surprising "Lonely without you!", delivered with such grace and charm that you simultaneously felt good to be a valued presence, while never once concerning yourself that he might be lonely.
This spring, his punning mattress could be viewed as the unusually cold and wet weather we're having and also, certainly, the distances we're keeping from each other. But, as unlikely as it seems, we'll warm up and come together again.
On April 13, strong winds blew down trees around the sanctuary and dislodged one of the many coverings protecting greens out in the field. On April 18, several inches of snow tested the strength of our cold frame (pictured)—no plants were harmed!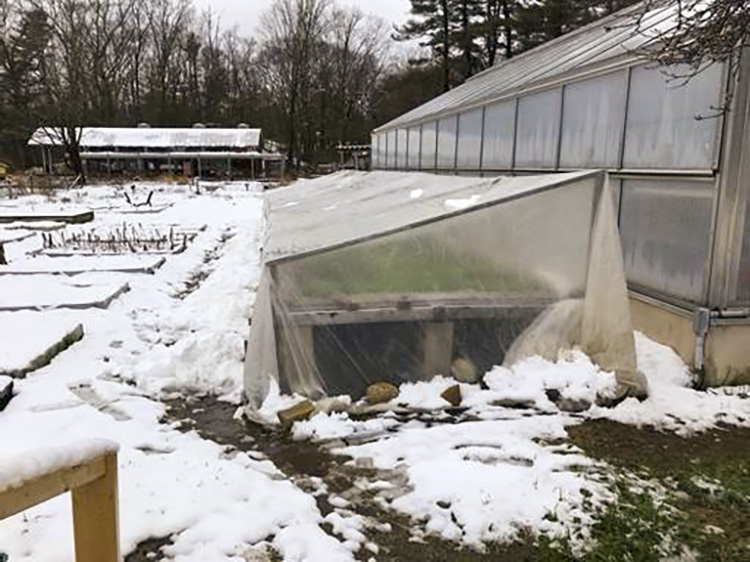 On April 19, we finished planting 4,200 strawberry plants, occupying 12 beds (one quarter-acre). And on April 25, we began the onion-planting marathon (pictured—Nina Halty [left] and Margaret Hayes [right]) —2,500 plants down, 44,000 to go.
A special thanks to greenhouse volunteers Anne, Sheila and Francesca who, back in February and early March, seeded all those onions one by one by one. We'll continue planting those onions over the next two weeks.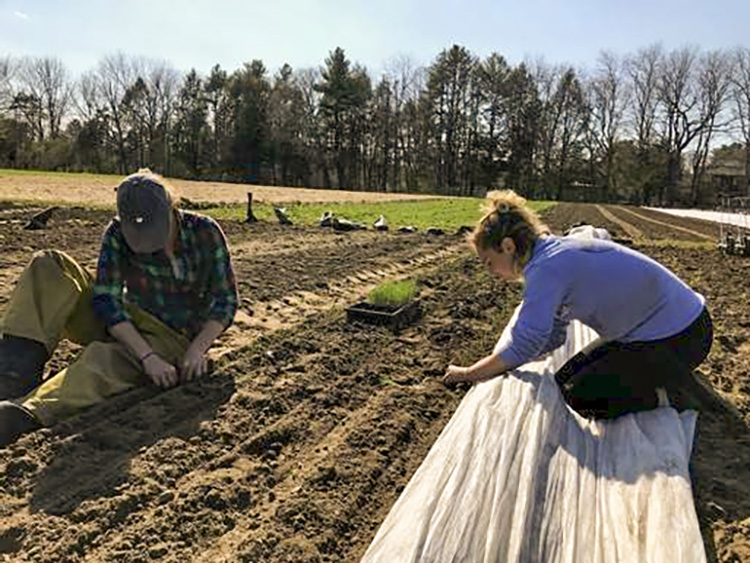 By the middle of next week, we'll take a break from that to plant over an acre of potatoes—one ton of potato seed has been green-sprouting in the barn loft in front of the windows. And by the end of this week, or early next, we'll plant the first warm-weather crops—cherry tomatoes and cucumbers—into the hoop house! We're making way for them now by harvesting the last of the winter's spinach and lettuce crops.
And so, onward we go, and in the spirit of spring birdsong and of my grandfather who would often repeat "You're never alone with books and music," Tally-ho!
Your Farmers
---
As an agricultural operation, Drumlin Farm is considered an essential business. Our crops program is still hiring for Beginning Farmer and Field Worker positions with both full-time and part-time hours, beginning immediately or for the summer period. Please see our job postings for information on requirements and how to apply.