We're excited to announce the start of construction of the Environmental Learning Center (ELC), the 3,700-square-foot building that will serve as the home base for all of Drumlin Farm's environmental education programming.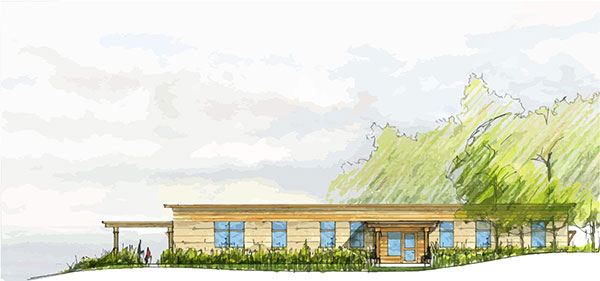 The ELC will enable Drumlin Farm's team of 100+ environmental educators to be even more effective and creative in connecting people of all ages with nature, inspiring curiosity, passion, and action. It will provide essential work space for staff and serve as a place to welcome and interact with program participants, teachers, and parents.
Thoughtfully designed to foster collaboration, catalyze innovative ideas, and support efficient administration of our educational programs, this net-zero energy facility will be a model of energy-saving features and green building design. For example, The installation of a major rooftop solar array to fully power the building will also offset power consumption of other Drumlin Farm buildings.
Construction began this month, with the building expected to be ready by May 2018. We are thankful to the many strong Mass Audubon supporters who have made this $2.5 million project possible.
Although we are beginning construction now in order to be ready for our camp season next summer, we still need contributions to complete fundraising for the project. A generous donor is currently matching new donations with $2 for every dollar donated, so please make a gift today. Every dollar counts!