Last week Dave Weaver and I met a group of excited WMB folks at the parking lot in Gloucester for our first Cape Ann trip of the season. We began birding, as we usually do, at the Jodrey State Fish Pier, from where we always check on the view of City Hall's cupola, where the resident Peregrine Falcon(s) often roost. Last week they were evidently off hunting, but one has been seen there this fall. The inner harbor was quiet, with a smattering of eiders, cormorants, a couple of Common Loons, and plenty of gulls. No gulls sat on the grass-topped warehouse; in fact, all the grass is gone, because the roof was being resurfaced that very day! Sharp-eyed birders found one, then another Red-necked Grebe off to the south and west of the pier, and a small flock of Surf Scoters way out toward Ten Pound Island.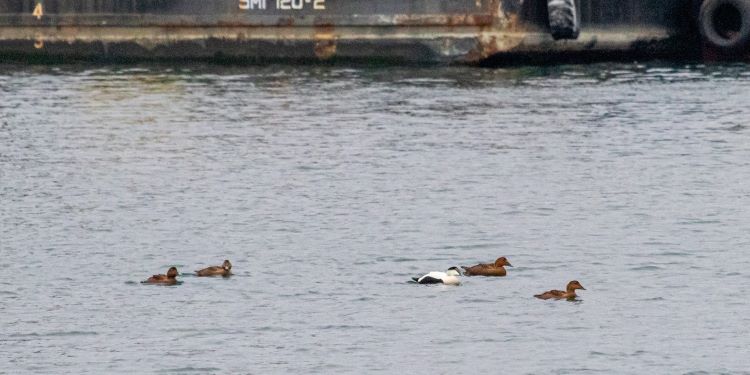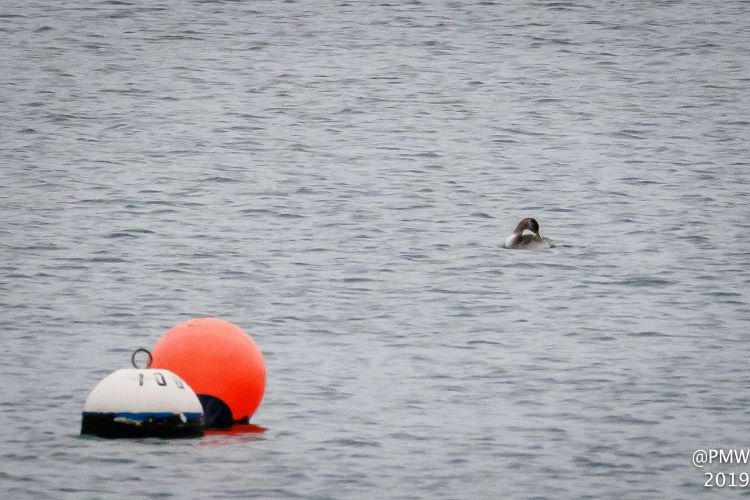 Eastern Point was next, where previously many gannets were seen foraging. On Wednesday, they had moved offshore for the most part, so we scanned through the small numbers of scoters, Buffleheads, and mergansers.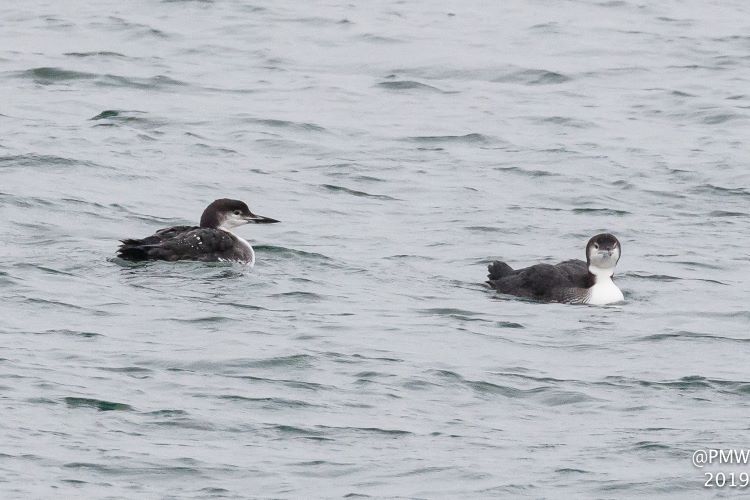 With not too much action there, we moved on to Niles Pond, where lots of migrating waterfowl have been found lately. Last Wednesday, there were over 50 Ring-necked Ducks, some American Coots, a female Greater Scaup, and a couple of female Hooded Mergansers in with the Red-breasted Mergansers. The nearly resident crowd of Mallards was there, along with plenty of Buffleheads. An Iceland Gull we saw with a different group the previous week was not around.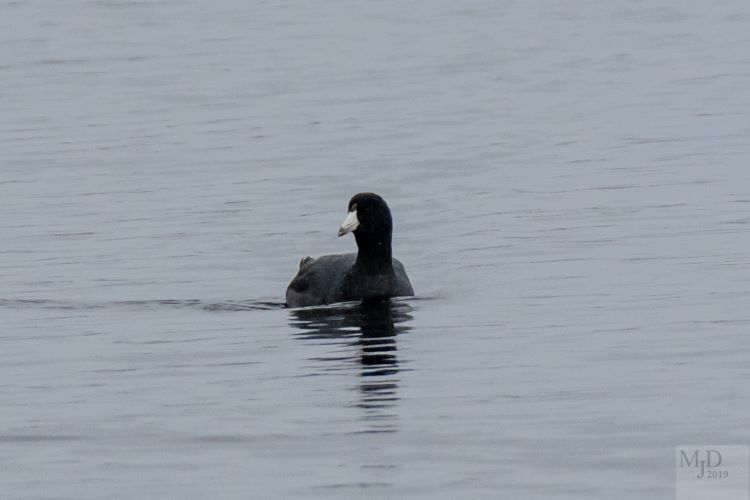 After seeing both Great and Double-crested Cormorants on Cormorant Rock with another group the previous week, I was surprised that no cormorants were there this time. We did get to scan the sea from the side of the Elks Club, where the crowd of Buffleheads in "Bufflehead Cove" was present, and wintering White-winged Scoters ranged here and there in small numbers.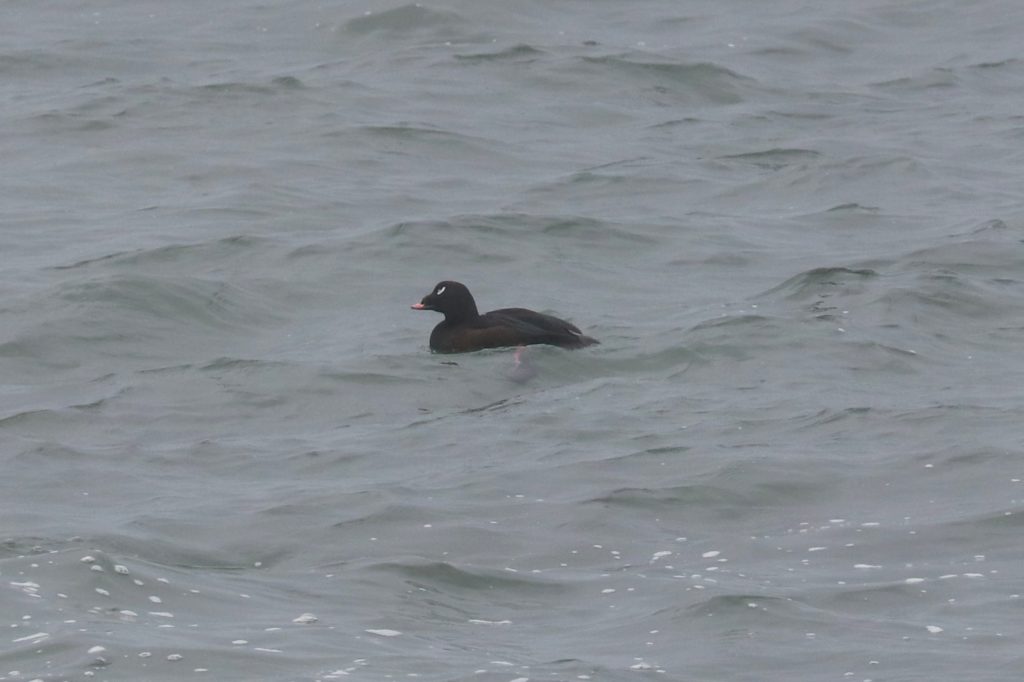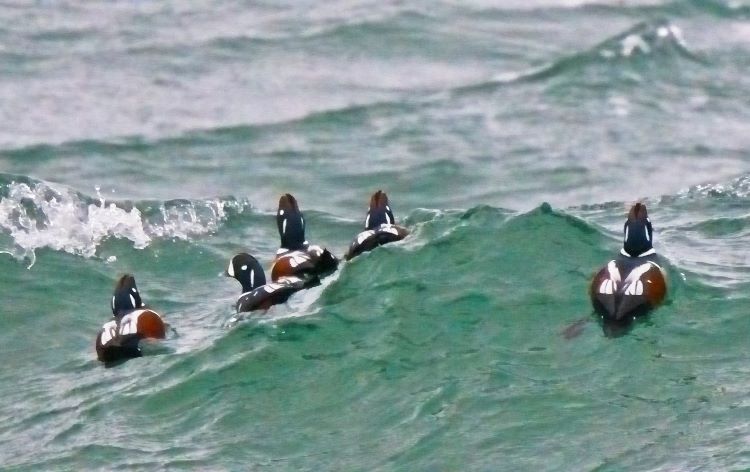 At Cathedral Ledge, the Harlequin Ducks were split between rocky points that jut out both north and south of the viewing area. Northern Gannets appeared near and far over the sea. At Andrews Point, the Harlequin Ducks and Common Eiders were much closer, along with some Black Scoters and more White-winged Scoters. Two Red-throated Loons flew by and some Northern Gannets came closer as well. Len Cawley delighted everyone by pointing out a first-year Iceland Gull that then flew over us, giving us that fun "cherry on top" to the outing. So it was a fine day to be out on Cape Ann. Although the wind was not challenging us by whipping at our eyes with frigid temperatures and the odd stinging particle of ice or sand, we certainly have that to look forward to! We'll have plenty of opportunities to prove our mettle in the coming months, which will also bring, we hope, some of the less common rocky shore birds we crave.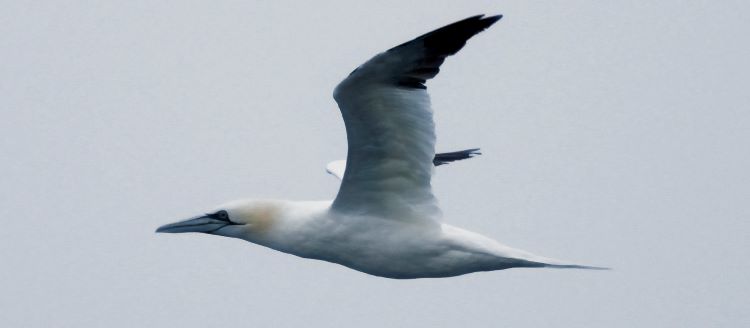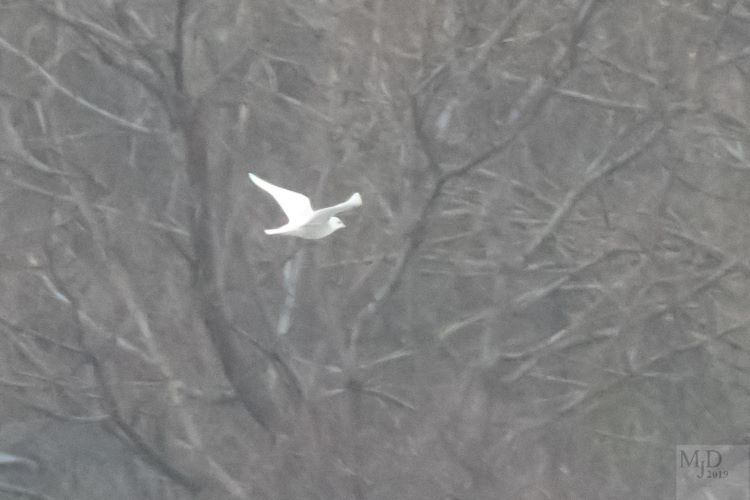 Our List:
American Black Duck – common.
Ring-necked Duck (~ 50) – Niles Pond.
Greater Scaup (1) – hen; Niles Pond.
Common Eider – common.
Harlequin Duck (~ 60) – ~ 30, Cathedral Ledge; ~ 30, Andrew's Pt.
Surf Scoter (8) – 6, Jodrey Fish Pier; 2, Eastern Pt.
White-winged Scoter – common.
Black Scoter (7) – Andrew's Pt.
Bufflehead – common.
Hooded Merganser (2) – Niles Pond.
Red-breasted Merganser (~ 35) – a few Eastern Pt; ~ 25, Niles Pond.
Red-necked Grebe (2) – Jodrey Fish Pier.
Rock Pigeon
American Coot (3) – Niles Pond.
Purple Sandpiper – probable; small flock flew into "Bufflehead Cove" as we drove by – could not stop.
Ring-billed Gull (~ 15) – Niles Pond.
Herring Gull – common.
Iceland Gull (1) – 1w.; Andrew's Point.
Great Black-backed Gull – common.
Red-throated Loon (2) – flybys, Andrew's Pt.
Common Loon (12+) – various.
Northern Gannet (~ 15) – Cathedral Ledge & Andrew's Pt.
Double-crested Cormorant (4)
Red-tailed Hawk (1) – Niles Pond.
American Crow – Eastern Pt. & downtown Rockport.
Black-capped Chickadee (4) – Niles Pond.
European Starling
American Goldfinch (1) – Niles Pond.
Song Sparrow (3) – Cathedral Ledge.