Has it been an age, an era, an epoch even, since a Wednesday Morning Birding report? Folks, it seems like all of those, and at the same time this time has flown by. For this Mass Audubon sanctuary director, "administrivia" has flowed, from circumstances caused by the pandemic, like the mother of all admin rivers, an easy and somewhat unfairly snarky thing to say while our beloved organization has been working incredibly hard to care for staff, to serve our members as best as possible, and to ensure we survive and thrive beyond this mess. It is too early to talk about silver linings, especially when we haven't seen the worst of this, but we are learning new things that we will use in the future.
But birds! I have been holed up, not getting out to Plum Island or other popular places, in accordance with company policy. So I have focused on the little community of birds that miraculously has begun coming to my little backyard feeding station. This has been one of the slowest-starting bird feeding stations I've ever set up. But in the past couple of weeks, my feeders noticeably picked up speed, delivering what seem to be many mated pairs. They show up in twos, and you can tell they are male and female in many cases. My favorites are two European Starlings that visit for suet. Over the past three weeks they have become brighter and brighter, not just in plumage, but also in the color of soft parts. One is certainly more – can I say it? – resplendent. I set up my camera on a tripod, fiddled with the controls I can use on my phone, and got a couple of okay shots. I have little time to play around with stuff like that. I still have great hopes for more sightings and photography adventures as the season progresses.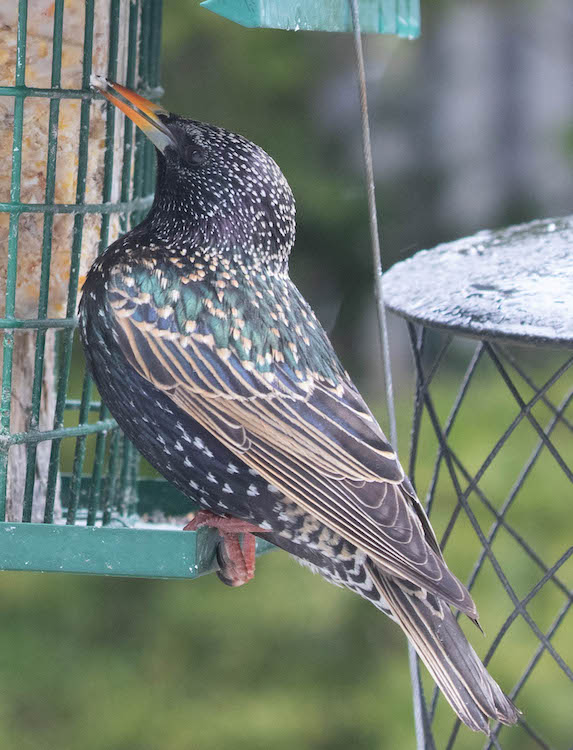 One other bit of birding I have accomplished was near a place where I went to purchase an essential substance: local fish. The Yankee Fisherman's Coop happens to have local fish. Right next door to it, there is a well-known public bathroom, atop of which a Glaucous Gull has stood during high tide for many winters. Since we know this is the same individual, I had an unscientific moment and decided this one is "Sidney." You don't have to join me. The day I went for the essential fish during high tide, Sidney was not there, but he (or she) had been reported a few weeks prior. I have not given up hope. We are low on local fish. I did remember to take a shot of this magnificent Herring Gull, however. We often malign the abundant birds to some degree, so I offer this one to you to bring up the idea that we can appreciate every living creature we see. Every moment is precious in which we have the health and mental acuity to appreciate the miracle of each and every living creature.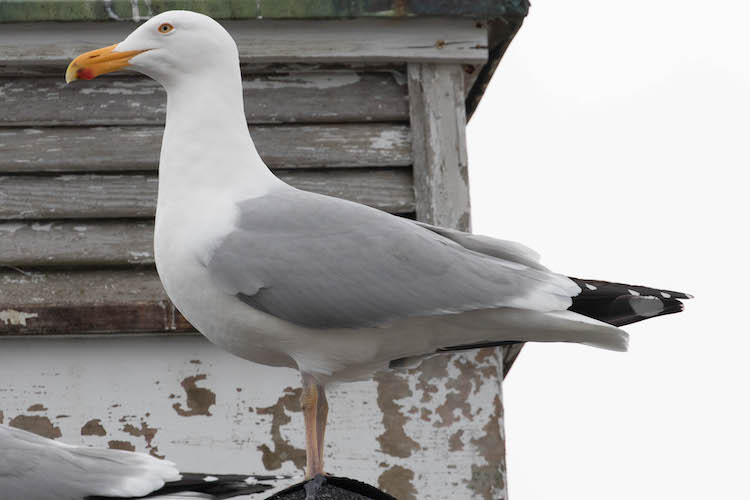 Now for some arguably awesome birds seen by the photographers I so admire in our WMB cohort, and a great shot of a pair of Eagles right behind Joppa by our neighbor Victor Cole. Thanks for sending me all the cheery reports, my friends. It means a great deal to me that we share birds with each other. As the pleas from our state and local officials have become ever more insistent that we stay home, I continue to work in the few spare moments I have to find ways to share ornithological interest from right here, my perch in Amesbury!