David Larson and I led this week's Wednesday Morning Birding program out of Joppa Flats on to Plum Island. It was a lovely day to be there — partly cloudy, temps in the mid to upper 70s, and winds SW/0-5 mph. Understandably, not much bird song remaining, but there were a few birds to be had.
With your permission, this report must be necessarily brief. Ergo, will simply give you a few highlights accompanied by a few photos:
* Parking lot #1 on Parker River Refuge was alive with Purple Martin song — such a glorious sound, in my humble opinion. The resident Brown Thrasher was tuned up, as usual atop a nearby shrub.
* From the boat ramp, the Osprey pair was at home on its nesting platform, a Willet was seen (among many more heard and seen during course of the morning), and a few "johnny-jump-ups," otherwise known as Saltmarsh Sparrows, were glimpsed in the surrounding marsh.
* In one of the small pannes, a pair of Green-winged Teal was loafing on a small island.
* From the Hellcat parking lot, we were treated to an uncommon phenomenon in the sky above — some colorful cirrus clouds to the south, according to Wikipedia, formally known as, "A circumhorizontal arc . . . an optical phenomenon that belongs to the family of ice halos formed by the refraction of sun- or moonlight in plate-shaped ice crystals suspended in the atmosphere, typically in cirrus or cirrostratus clouds. In its full form, the arc has the appearance of a large, brightly spectrum-coloured band running parallel to the horizon, located far below the Sun or Moon." John Linn's photo here gives you a bit of an idea . . .
Purple Finches were continuing their springtime song and were quite active.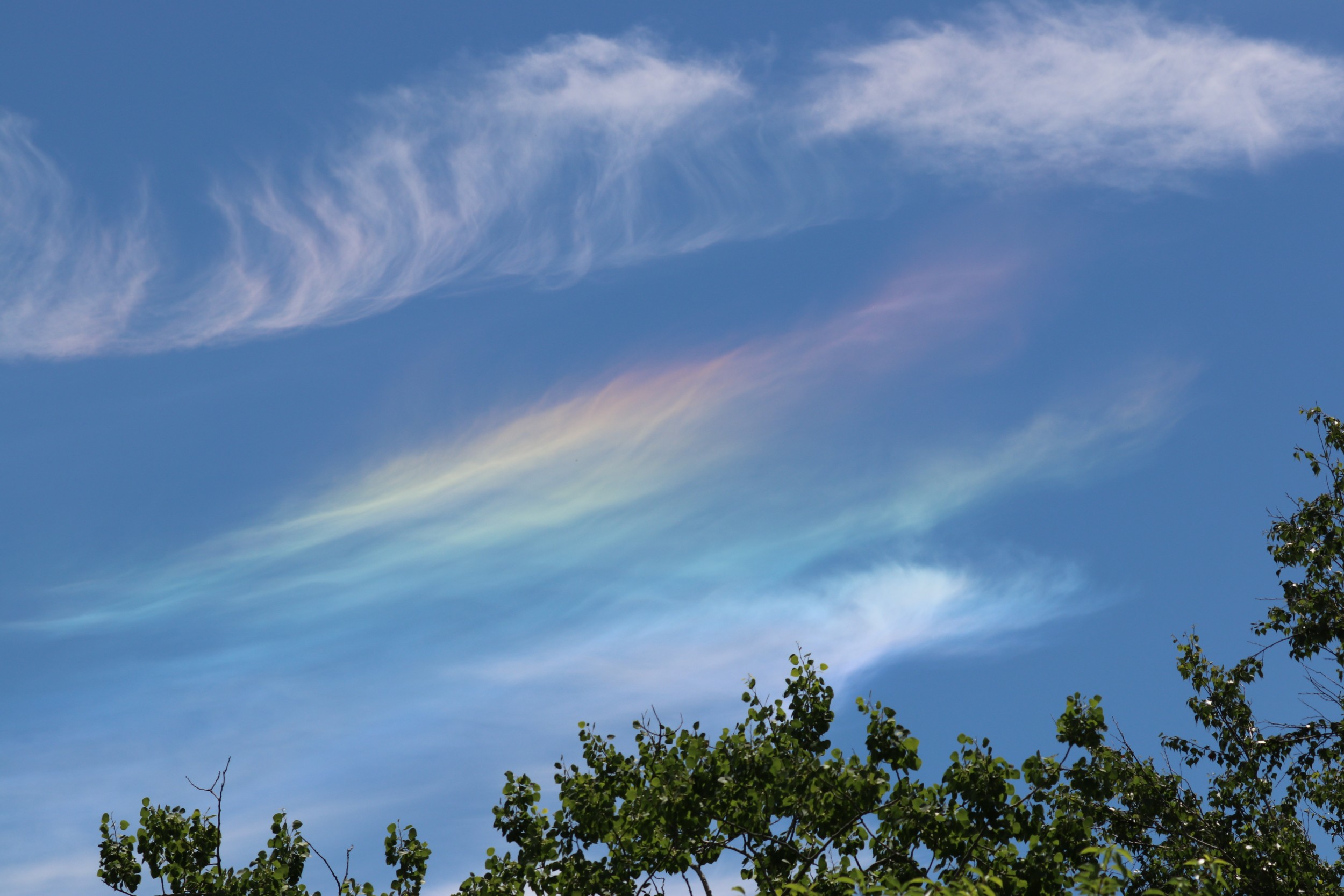 Circumhorizontal arc by John Linn
* In the Pines Trail parking lot, we were greeted by an absolutely over-the-top singing Boblink — bubbling away right in our faces. Mary Ann, a visiting birder from Austin, Texas, was beside herself with excitement over this lifer experience!
* From the Pines Trail observation platform, Mom and Pop Osprey could be seen tending to their three youngsters, whose heads were seen bobbing above the nest edge. And, from the platform, the "circumhorizontal arc" continued to the south – wonderful!! On the back side of the trail, we picked up the musical trill of a Pine Warbler, and, then, were able to locate it in, of all things, a pine tree above us. ;-))
So, there you have it, folks, short and sweet! Come join us next Wednesday for the last WMB prior to the July (greenhead) break.
Cheers!
Dave Weaver
cygnus-dkw@comcast.net
Our list:
Canada Goose – common (many youngsters on Bill Forward Pool).
Gadwall (2) – from Hellcat dike, 1, BFP & 1, North Pool.
Mallard – common.
Green-winged Teal (3) – pr., sm. pannes; 1, NP.
Wild Turkey (2) – hens; roadside, BFP blind.
Double-crested Cormorant – common.
Great Blue Heron (1)
Great Egret (~ 6) – various.
Snowy Egret (~ 7) – various.
Turkey Vulture (6) – most n. of refuge gate.
Osprey (7) – 2, boat ramp nesting platform; 5, Pines nesting platform –
2 ads, 3 young in nest.
Black-bellied Plover (1) – BFP.
Killdeer (5) – various.
Willet – common.
Ring-billed Gull (1) – BFP.
Herring Gull – common.
Great Black-backed Gull (1)
Least Tern (3) – pannes.
Rock Pigeon
Eastern Kingbird – common.
Red-eyed Vireo (1) – Goodno Woods.
Blue Jay (5)
American Crow (3)
Purple Martin (~ 12)
Tree Swallow (2)
Barn Swallow (5) – vicinity of The Warden's.
American Robin (4)
Gray Catbird (~ 10) – roadside, up & down refuge road.
Northern Mockingbird (1) – vicinity of lot #1.
Brown Thrasher (2) – 1, lot #1; 1, Hellcat.
European Starling – common; already flocks of juvs.
Cedar Waxwing – common.
Common Yellowthroat (3) – heard.
Yellow Warbler (~ 8) – various.
Pine Warbler (1) – heard and seen; Pines Trail.
Eastern Towhee – common.
Saltmarsh Sparrow (~ 5) – various.
Song Sparrow (~ 5) – various.
Northern Cardinal (2)
Bobolink – common.
Red-winged Blackbird – common.
Common Grackle (~ 15)
Brown-headed Cowbird (2)
Baltimore Oriole (1) – Hellcat.
Purple Finch (~ 5) – Hellcat & Pines Trail.
American Goldfinch (4)
House Sparrow