Hello, WMBers!
With David Moon off to warmer climes (Costa Rica!), David Larson and I soldiered on and had a very satisfying and comfortable Wednesday Morning Birding. Compared to days over the past week or so, the weather was absolutely balmy! The skies were clear to partly cloudy, the temps ranged from 17 to 28 degrees F, and winds were wonderfully light, S/0-5 mph. It truly was a delightful day to be out birding! And bird, we did. We got off to a great start. As each of those joining us (there were nine) came through the door at Joppa, we directed them to the spotting scope pointing out onto the marsh and river. From most, we got the desired, "OMG!" as they peered through the scope! There was a Snowy Owl perched out on the ice providing great views.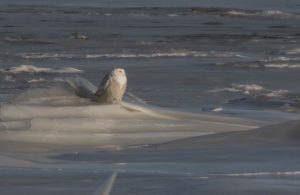 Snowy Owl on Merrimack from Joppa Flats – David Larson
From the platform off parking lot #1, we gazed upon a calm sea without a whole lot of birding activity nearby. But, there were birds to be had once we explored the entire scene. We eventually tallied about 40 Sanderlings along the beach to the south along with a singleton or two giving us a flyby. Out on the water most everywhere you looked, White-winged Scoters were commonly seen. To the north, what has come to be expected, was a flock of about 30 Black Scoters. Among the scoters, there was a single drake Greater Scaup and a couple of Long-tailed Ducks. There were no kittiwakes this Wednesday Morning Birding, "only" a few Ring-billed Gulls, the usual Herring Gulls, and a couple of Great Black-backs. All told, about a dozen Common Loons were scattered about.
As we were departing lot #1, a thoughtful birder drove up to my van and let us know that a Snowy Owl was in the marsh opposite lot #3. Most kind of her, although there were several vehicles parked there giving notice of something interesting. Sure enough, a most accommodating Snowy was not more than 50 yards away in the marsh taking in the morning sun providing the best views of the season — wonderful!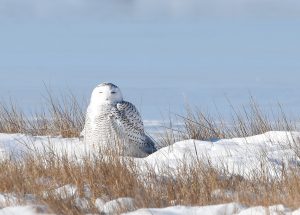 Snowy Owl on Parker River NWR – Susan Balser
From lot #3, we made our way down the refuge road to Hellcat. Along the way, we saw numerous American Robins flitting about and feeding on the plentiful winterberries. While watching the robins at Goodno Woods, from the lead van, David spotted a Yellow-rumped Warbler dropping to the ground. We were treated to a small flock of four Yellow-rumps feeding on bayberries near the Hellcat restrooms. For a change, we weren't blown off the Hellcat dike — conditions were quite benign. John, "from Hamilton," used his sharp eyes to spot an adult Bald Eagle perched in a tree on the far side of Plum Island Sound on Nelson Island. Other than John's eagle, we didn't see much.
We tried out the Pines Trail hoping our luck would be better, and to good effect. Here we managed to see a Downy Woodpecker, a few Black-capped Chickadees, about five White-throated Sparrows, and six Dark-eyed Juncos. But, it wasn't until we returned to the parking area that we had a really fun sighting — a flock of about 40 Horned Larks feeding in the grass at the south end of Bill Forward Pool. They foraged for a while there, then lifted up and landed on the dike to continue their search for seeds. All the while, we looked as best we could for something other than a lark among their numbers — perhaps a Lapland Longspur or a Snow Bunting. Some of us thought we had seen a darker bird among them. Well, we couldn't find the interloper. Then, in the early evening, Mike Densmore sent along a photo of a couple of Horned Larks in flight and there flying with the larks was a single Snow Bunting (see below)! Nicely done, Mike — super shot! How about that?! On our way back up the road, about 10 American Tree Sparrows were noted.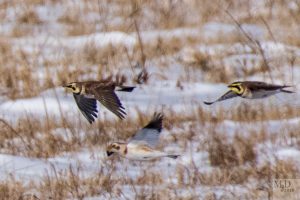 Horned Larks and a Snow Bunting from Pines Trail parking lot – Mike Densmore
To conclude our morning in the sun and the warmth (!), we visited Cashman Park in Newburyport. There, we were treated to not one, but three adult Bald Eagles, two of which were obviously friends, since they settled into a white pine side-by-side across the river. On the river, were an estimated 40 Common Goldeneyes, 10 Buffleheads, about 10 Red-breasted Mergansers, and a lone Hooded Merganser. A juvenile Double-crested Cormorant swam close to us and then surprisingly walked up the boat ramp. This bird should be somewhere further south! The usual Mallards and Ring-billed Gulls were close aboard.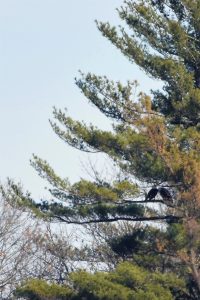 Adult Bald Eagles across from Cashman Park – Susan Balser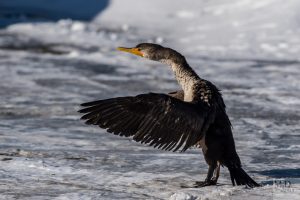 Juvenile Double-crested Cormorant on Cashman Park boat ramp – Mike Densmore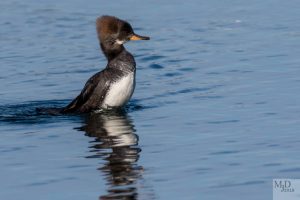 Hooded Merganser (appears to be 1st-yr male) on the Merrimack off Cashman Park – Mike Densmore
To put a lovely cap on our outing, we visited the city's Cushing Park on Kent Street and found the red morph Eastern Screech-Owl at home taking in the noontime sun. The sugar maple in which the owl roosts had been damaged a while back, but rather than take the tree down, Newburyport worked with David Larson in trimming out the damaged portions of the tree in deference to the owl's home base. Based on David's good counsel, the trimming crew worked only at night — only at night, when the owl was out and about hunting. When all said and done, the screech was not disturbed and continues to use this sugar maple for its daytime roost. Nicely done, Dr. Larson!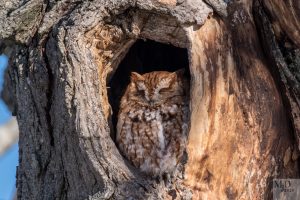 Red morph Eastern Screech-Owl, Cushing Park, Newburyport – Mike Densmore
Next week, David Williams (are there any "Davids" on the Joppa crew?!) will join me on Cape Ann for the next edition of Wednesday Morning Birding. If you would like to join those driving from Joppa, there will be two vans leaving at 8:30 for Friendly's in Gloucester on the Rt 128 rotary. Otherwise, meet at Friendly's for a 9:30 start. Hope to see you there! Please stay tuned for any possible weather-related change in plans.
Happy New Year and warmest regards!
Dave Weaver
Our list:
Plum Island —
Canada Goose (7)
American Black Duck – common.
Mallard – common.
Greater Scaup (1) – one ocean; with Black Scoter flock n. platform lot #1.
White-winged Scoter – common; one ocean.
Black Scoter (~ 30) – one ocean, n. platform lot #1.
Long-tailed Duck (2) – one ocean; with Black Scoter flock.
Common Loon (~ 12) – one ocean.
Red-necked Grebe (1) – one ocean.
Bald Eagle (1) – ad. perched, Nelson Island across PI Sound.
Sanderling (~ 40) – one beach.
Ring-billed Gull (4) – one beach/ocean.
Herring Gull – various.
Great Black-backed Gull (2) – one ocean.
Rock Pigeon
Snowy Owl (1) – ~ 50 yards directly w. lot #3.
Downy Woodpecker (1) – Pines Trail.
Blue Jay (~ 10) – various.
American Crow (5)
Horned Lark (~ 40) – s. end Bill Forward Pool, seen from Pines parking lot.
Black-capped Chickadee (4) – Pines Trail.
American Robin – common; seemingly everywhere foraging on winterberry.
Northern Mockingbird (2) – 1, The Warden's; 1, s. parking lot #4.
European Starling
Yellow-rumped Warbler (5) – Hellcat restrooms.
American Tree Sparrow (~ 10) – roadside, various.
Song Sparrow (3)
White-throated Sparrow (5) – Pines Trail.
Dark-eyed Junco (6) – Pines Trail.
Cashman Park —
Canada Goose (6)
Mallard (~ 12)
Bufflehead (~ 10)
Common Goldeneye (~ 40)
Red-breasted Merganser (~ 10)
Hooded Merganser (1)
Double-crested Cormorant (1)
Bald Eagle (3) – ads.
Ring-billed Gull (~ 12)
Herring Gull
Great Black-backed Gull (4)
Rock Pigeon
American Crow (~ 12)
In addition, one Snowy Owl was perched on the Merrimack ice close to Joppa, and one Red-tailed Hawk was harassed by crows at Joppa.