This past Wednesday, Dave Weaver and I once again led the Wednesday Morning Birders to search for birds from one end of Plum Island to the other. We got off to a good start with an adult Bald Eagle standing in the marsh right before we entered Parker River National Wildlife Refuge. Our first planned stop was just south of the Middens, which are the mounds composed of sand- and vegetation-covered oyster shells that look like small dunes on the right side of the refuge road just south of parking lot #1. Among the 25 or so Canada Geese in Plumbush Creek, we found the immature Greater White-fronted Goose that had been repeatedly reported there. The weather had thawed ice on the salt pannes, where we found plenty of wintering ducks. The majority were American Black Ducks, but as we arrived at the Main Panne we saw that a good number of Northern Pintails were mixed in. A few Red-breasted Mergansers added diversity in the largest of the South Pannes.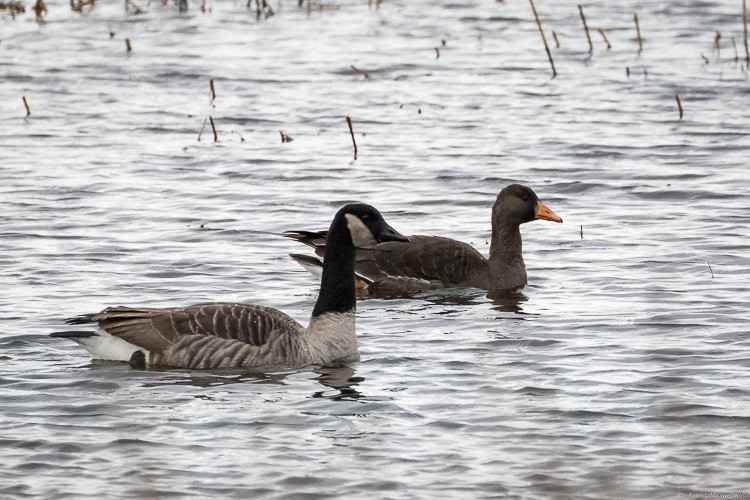 We had few reasons to stop on the drive to Sandy Point, other than to check briefly for any possible Short-eared Owl activity near Cross Farm Hill. Stage Island Pool had none of the waterfowl action we had seen in the natural pools/pannes further north. We went to Sandy Point first to give Emerson Rocks more time to emerge in the falling tide. This week the point from the area near the platform was quiet. I wanted to see if the gyre of sea ducks that formed on strong outgoing tides would happen this season, and found a definitive negative. The shoals that created good hunting grounds for the thousands of birds that regularly arrived there last year have moved and seem to be devoid of enough food to attract a crowd.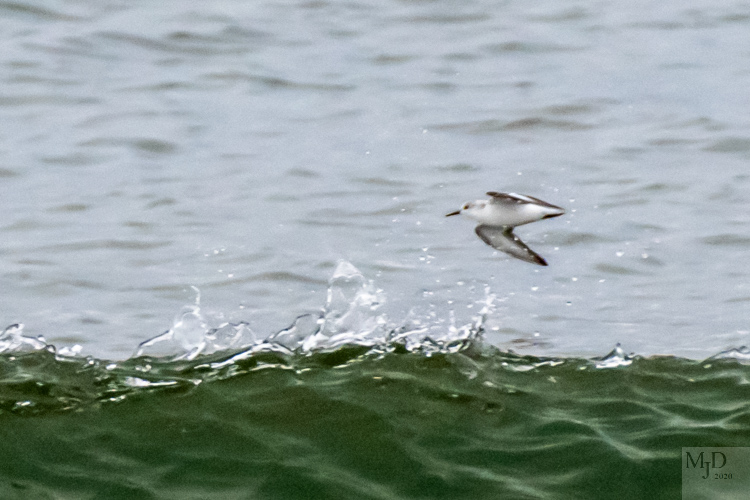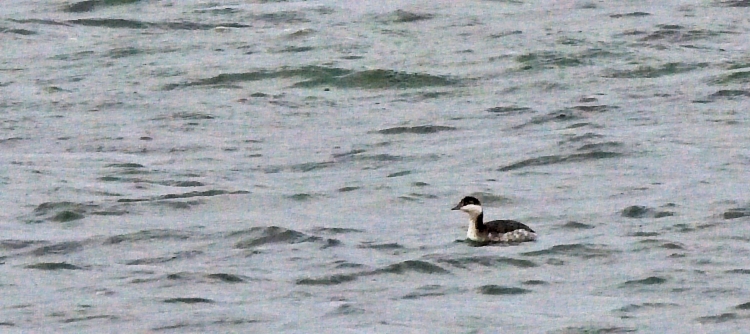 Emerson Rocks did host the expected Common Eiders and at least one Horned Grebe, but we saw very few scoters there, which is strange, as it has always been a good spot for them. Later we had better luck at the river, but scoter numbers are way down in our area this year. Things picked up when we stopped to examine a Rough-legged Hawk in the trees out on Cross Farm Hill. The bird looked dark through binoculars and scopes, but the photos show that the bird was molting into plumage that will make it a dark-morph bird, unusual for our area. As we approached the Pines Trail area, we spotted a young Bald Eagle sitting on the Osprey platform perch-pole.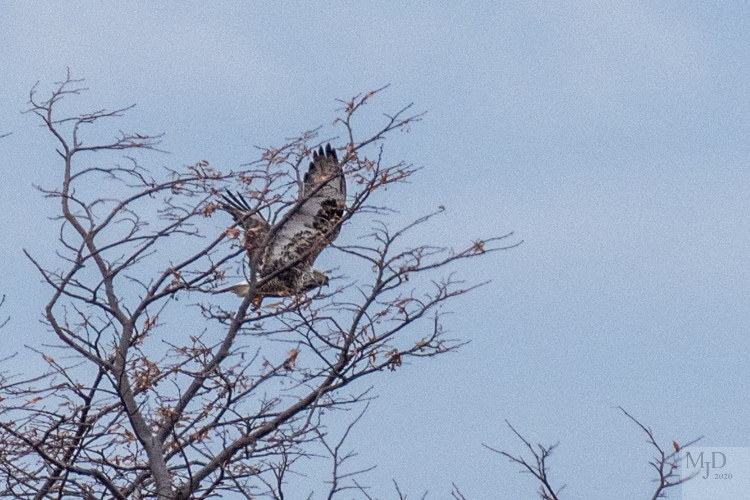 As we passed by the Bill Forward Blind, a group of Yellow-rumped Warblers dashed across the road, barely identifiable from our vans. Hellcat was quiet, with some numbers of waterfowl on Bill Forward Pool, and one American Tree Sparrow and a Song Sparrow pecking around on the dike. Then we perked up with an almost adult-plumaged Bald Eagle again standing quietly on the edge of the marsh out near the sound. While we sometimes stand around enjoying the scenery on Hellcat dike, this week the weather did not call for that, so we hustled north to see what was on the Merrimack River. We did have to stop, however, to enjoy a young Bald Eagle flying near the road, landing near a kill (goose?), and being harassed by a harrier who was in turn harassed by a crow.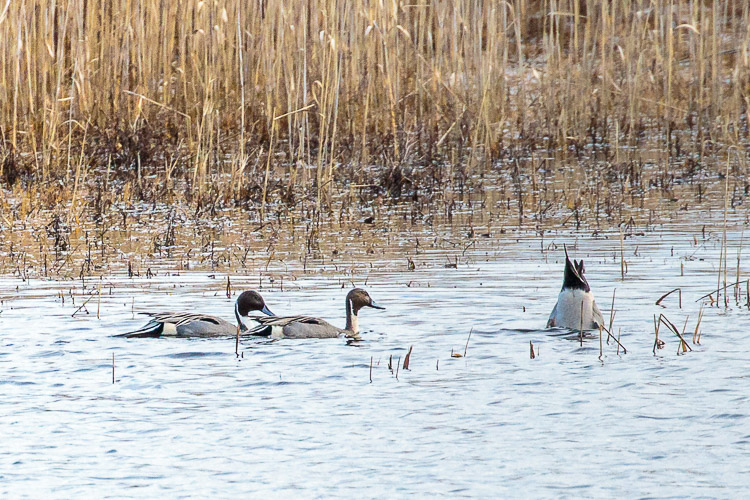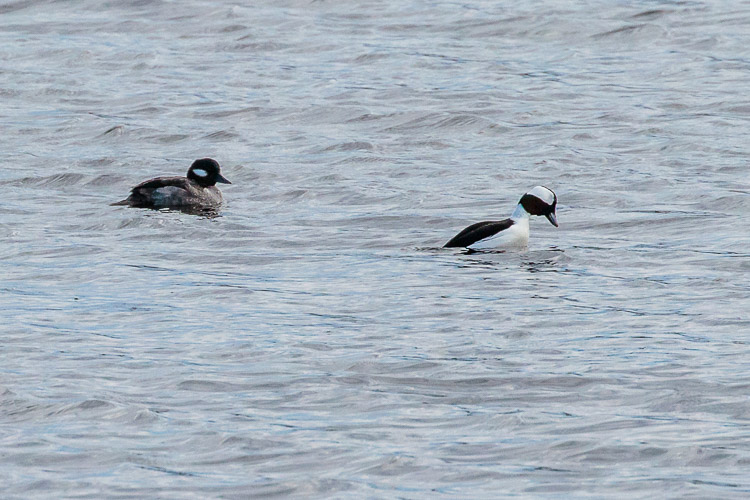 A Cooper's Hawk flew across the road while we were on the way to the north end of the island. We were rewarded for going the distance by a nice array of waterfowl and seals in the river and on the rocks over on the Salisbury side. Some of the birds by and on the rocks included Brants and Red-breasted Mergansers, and we could identify both Harbor and Gray Seals. We had good looks at several White-winged Scoters, a handful of Common Loons, some Long-tailed Ducks, and lots of Common Eiders. Once again, the North End provided a slight sense of abundance in an otherwise low year for wintering waterfowl around Plum island. We can only hope that they are having great foraging somewhere else, and that things will pick up later in the season or next year.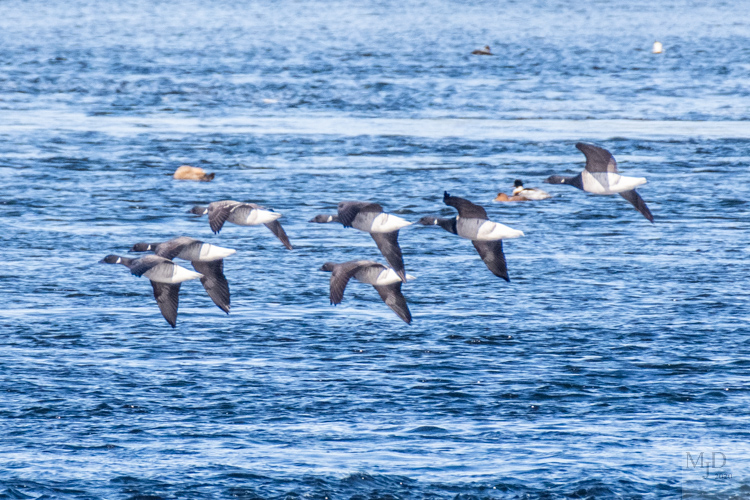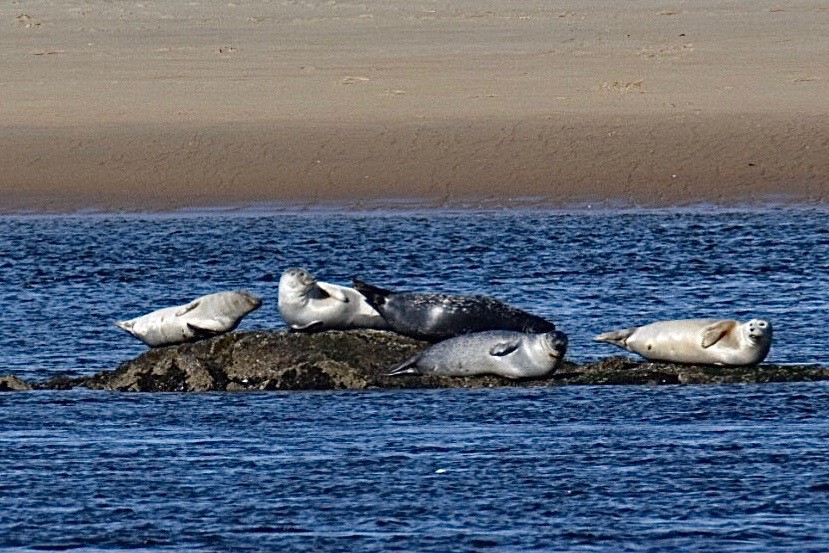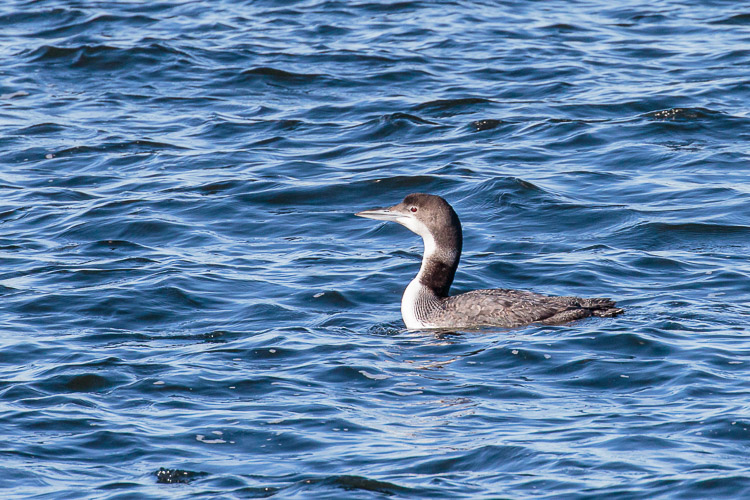 Our list:
Greater White-fronted Goose (1) – juv with Canada Geese on river just s. second midden (thanks, Tom!).
Brant (8) – north end on seal rocks toward Salisbury side of river.
Canada Goose – common.
Mute Swan(1) – Bill Forward Pool (BFP).
Mallard (2) – BFP.
American Black Duck – common.
Northern Pintail (20) – 14, pannes; 6, BFP.
Common Eider – common; seven ocean & north end.
White-winged Scoter (7) – 1, seven ocean; 6, north end.
Long-tailed Duck (4) – 3, seven ocean; 1, north end.
Bufflehead (3) – 2 hens, drake; BFP.
Common Goldeneye (5) – seven ocean.
Red-breasted Merganser (6) – 2, pannes; 4, north end.
Horned Grebe (1) – seven ocean.
Rock Pigeon
Mourning Dove
Sanderling (5) – 3, Sandy Point; 2, seven beach.
Herring Gull – common.
Great Black-backed Gull (3) – 1, Sandy Point; 2, north end.
Common Loon (5) – 1, seven ocean; 4, north end.
Northern Harrier (3)
Cooper's Hawk (1) – residents while en route north end.
Bald Eagle (4) – 1 ad, marsh n. refuge entrance; 1 4-yr-old; 2 Imm.
Rough-legged Hawk (1) – perched in tree at w. end Cross Farm Hill; blackish face, photo shows dark underwing coverts, the coverts of a dark-morph RLHA – could this be an "intermediate" showing plumage of both light & dark morph birds, or perhaps an imm. dark morph transitioning to ad.?
American Crow (~ 18) – various.
Black-capped Chickadee (2) – refuge gate.
American Robin (2) – parking lot #7.
European Starling
American Tree Sparrow (1) – Hellcat dike.
Song Sparrow (2)
Yellow-rumped Warbler (~ 12) – crossing road in vicinity of new blind.