Our next-to-last Cape Ann trip of the season went very well this week, with new bird experiences for just about everyone! Dave Weaver and I toured the rocky coast with 35 birders, who behaved reasonably well, for the most part, and from whom we got some new ideas about managing groups there due to some mildly novel behavior! More on that later.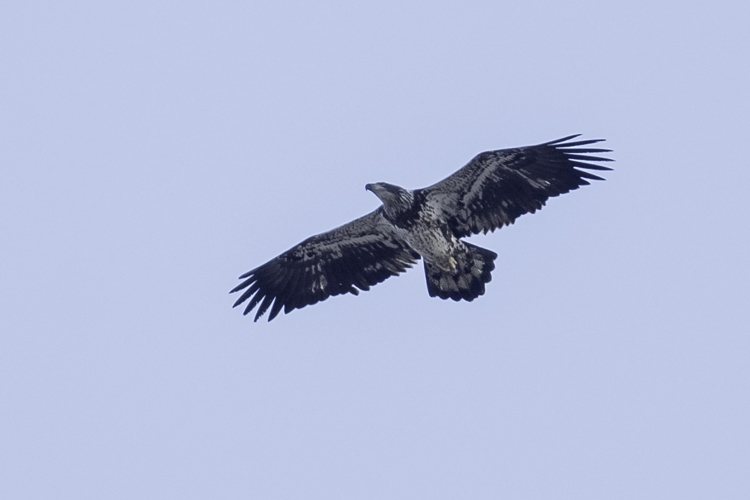 We began as always, at Jodrey State Fish Pier, which was interesting enough with eiders, scoters, mergansers, and loons visible on the harbor, with gulls flying everywhere, and with reports of alcids and uncommon gulls in our heads. Then some folks who had been there either earlier in the day or previous days walked over to check the south channel for one or more Thick-billed Murres that have been there. Sure enough, we eventually spotted three of them! We enjoyed the big show of flying gulls that erupted with a high fly-over of a 2nd-year Bald Eagle. We were about to leave, and in fact a few people did leave for our next destination, when sharp eyes spotted a Dovekie out on the harbor near the shrink-wrapped Schooner Adventure.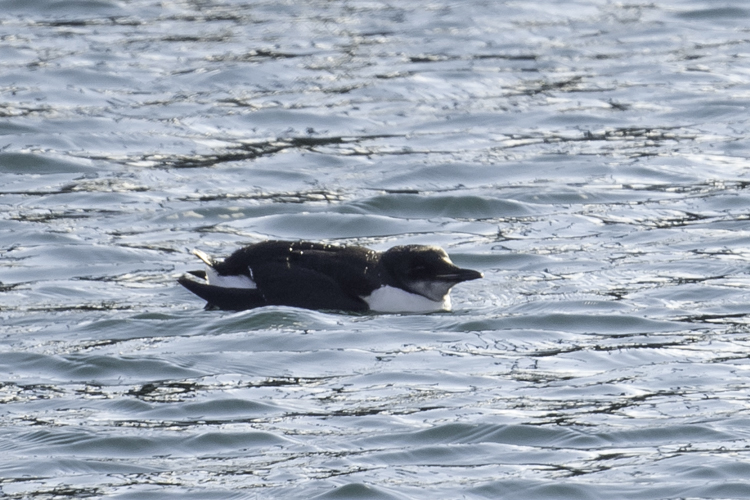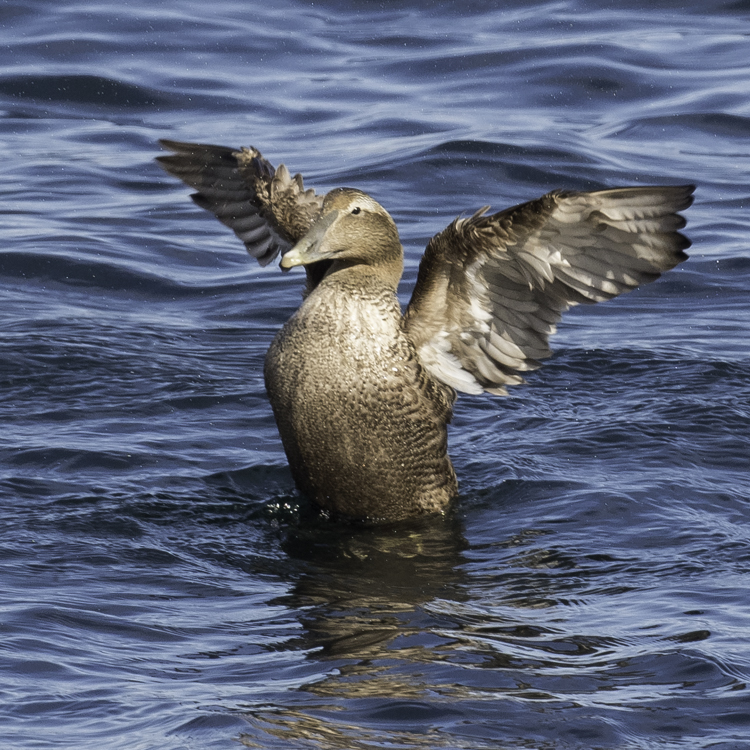 With multiple individuals and two species of alcids under our lids, we moved on, intending to stop at Rocky Neck, what with all the alcids in the harbor, when we heard from a group that had left ahead of the caravan that there were no new species at Rocky Neck. Since we often have large and at times unwieldy caravans on Cape Ann, it might be good to intentionally send some ahead to scout! The little salt marsh and intertidal cove at Eastern Point was filled with clear morning light and Gadwalls, who have freshly molted into their gorgeous alternate plumage. Buffleheads and Red-breasted Mergansers were scattered all over the more protected parts of the harbor nearby, and a handful of Surf Scoters were easily spotted about half-way out. One Greater Scaup joined a raft of eiders.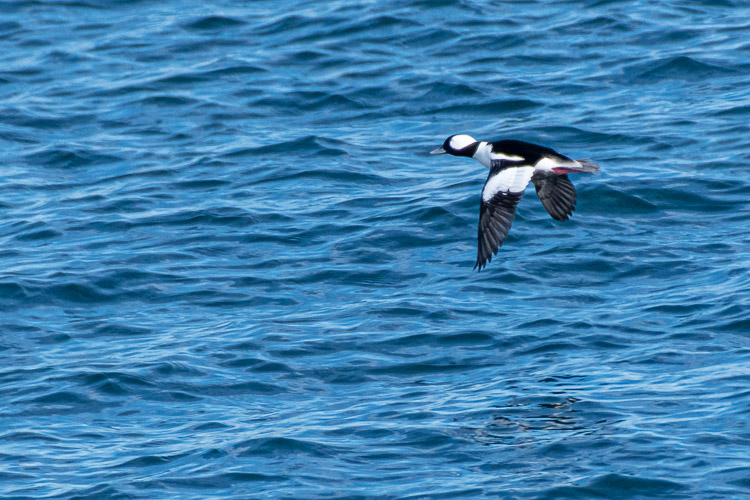 At Niles Pond, a big flock of scaup, in which we found a couple of Lessers among the Greaters, greeted us near shore. As they drifted away from us, we found a Ring-necked Duck among them as well. The large raft of gulls out on the pond contained all three of our common species, but none that were "white-winged." Few passerines jumped onto our list there, and come to think of it, we heard just one spring song, a Tufted Titmouse, singing on the far side of the pond. Many singers are becoming stronger every day in more protected inland areas. Then it was on to Atlantic Road, where we paused at Cormorant Rock to appreciate the newly alternate plumage and soft-part color of the Great Cormorants there.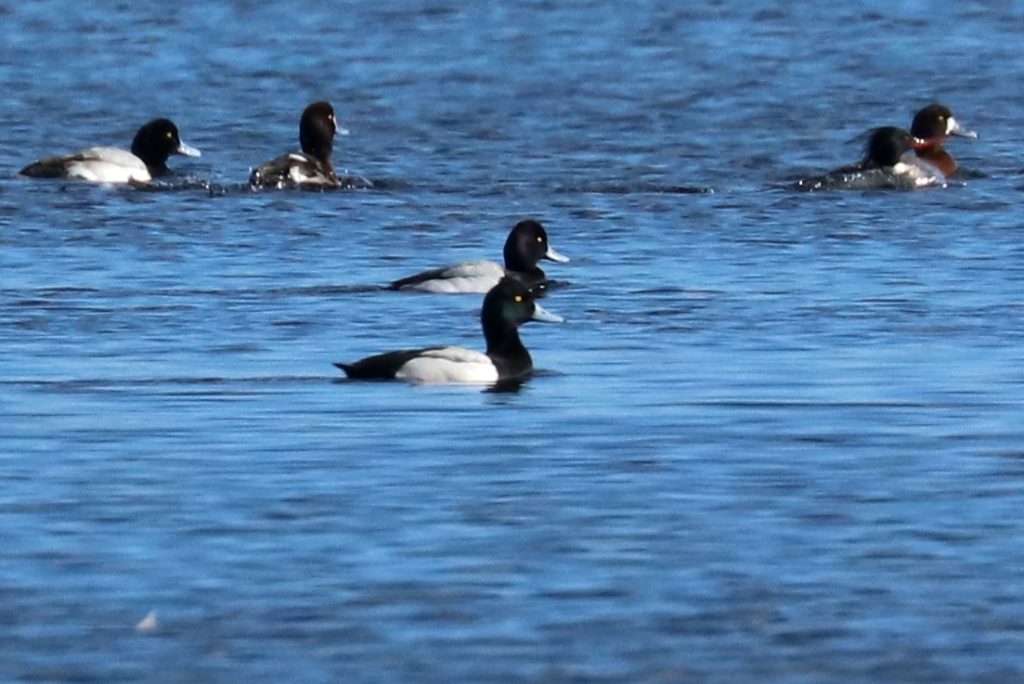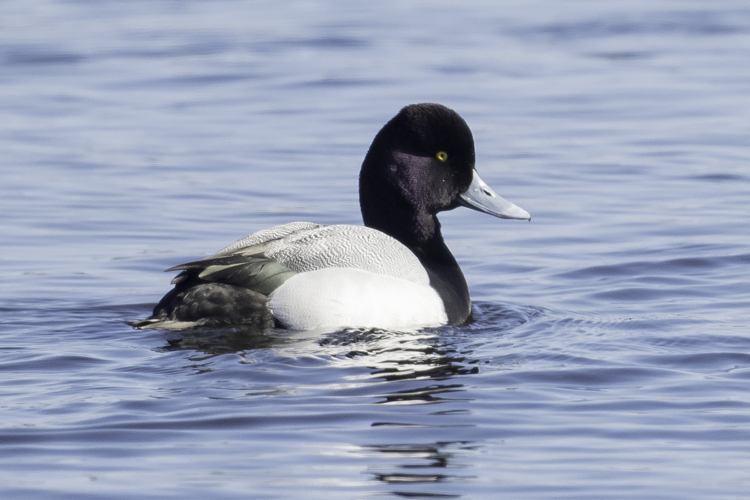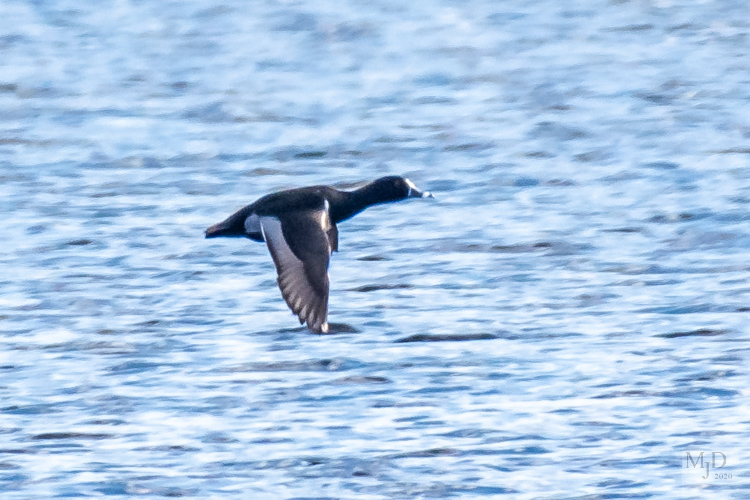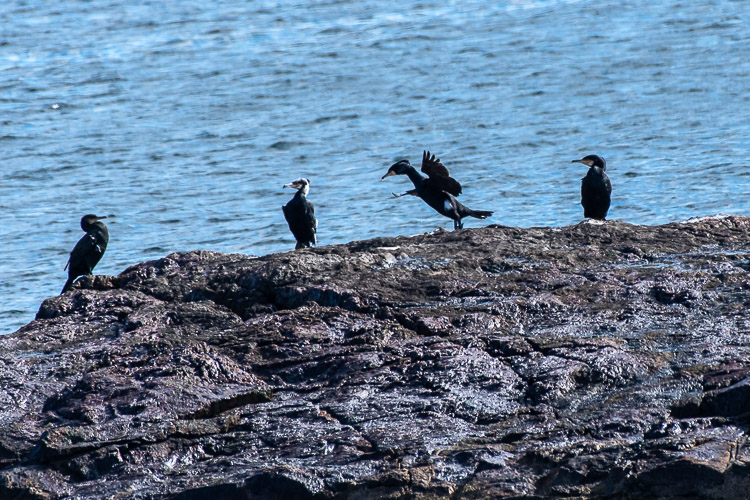 As we disembarked at the Elks Club, some participants spoke in hushed tones of seeing sandpipers along the road, but no definitive suggestion such as "Add 25 Purple Sandpipers" emerged. Fortunately, one, then two, then a third Purple Sandpiper did emerge into view on a rock in front of us, seemingly by mitosis, or as if they had oozed out of a crack. The sea was dotted liberally with White-winged Scoters. We searched in vain for alcids there, but just hang on to your hat.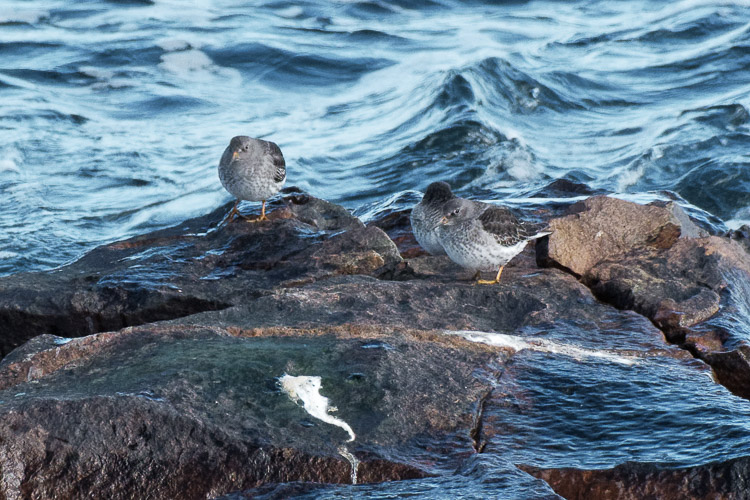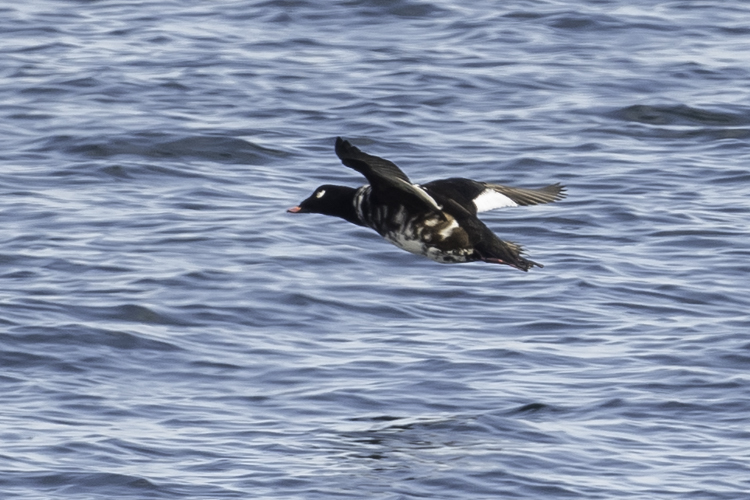 After stopping for self-care in the Rockport municipal parking lot, we made it to Cathedral Ledge. The sea was calm, the light was bright, and Harlequin Ducks were all up and down the shoreline for great views. A handsome drake Black Scoter floated calmly out on the water, and became a reference point for one, then two, then three Dovekies, which surfaced for only seconds between long dives. Later, at least two more of them joined in on our game of "Dovekie Whack-a-mole." We stayed playing that game long enough for a big flock, fifty or more, of Brants to hurry by low over the ocean. Their rapid headlong flight was nothing like that of their larger goose cousin. Alas, we ran out the clock with not enough time for Andrews Point, though some of our group did stay to continue there. We have one more Cape Ann trip scheduled for this winter on March 11. Don't miss Cape Ann this year, whether with us or on your own. The alcid show is really great!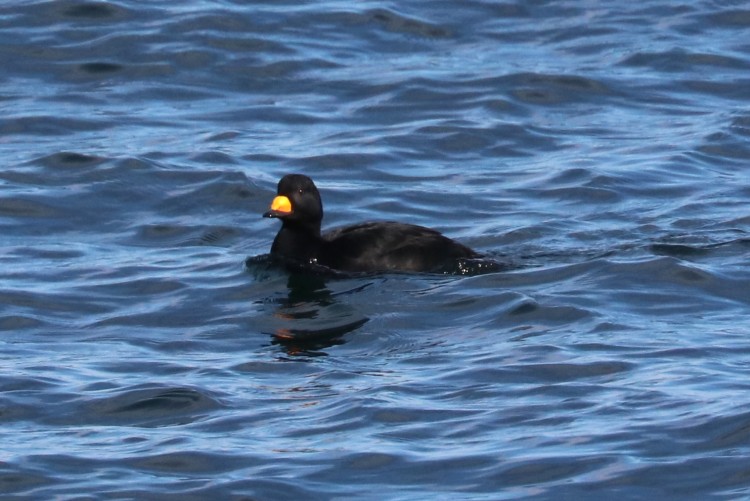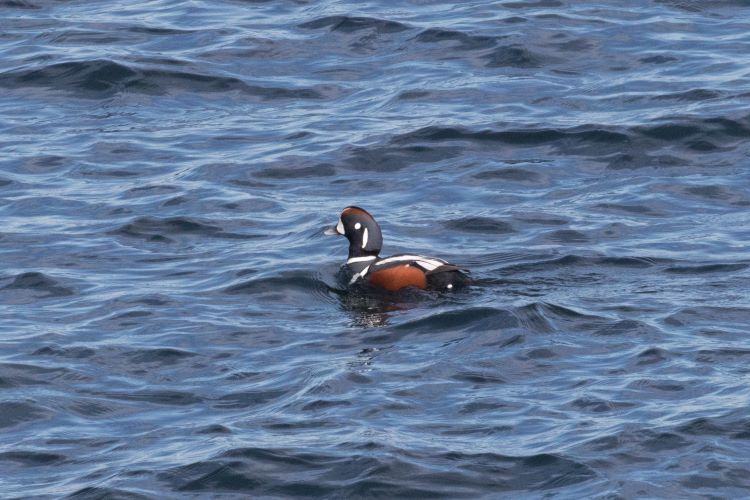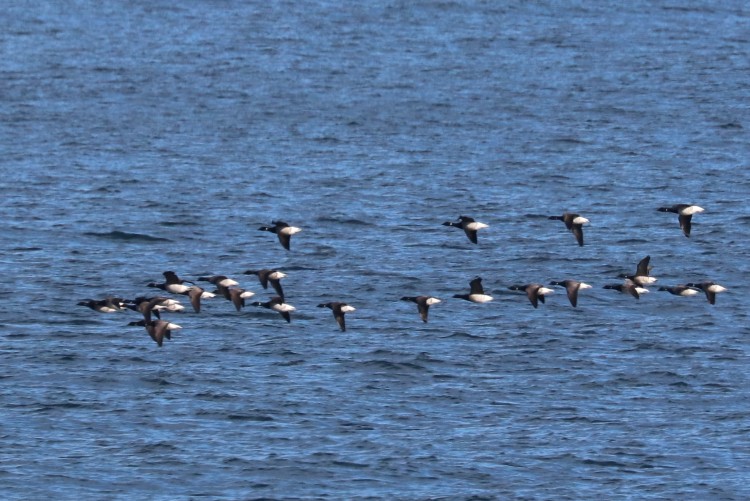 Our list:
Brant (~ 50) – flock flying low over water off of Cathedral Ledge, heading north.
Canada Goose (~ 65) – mostly Good Harbor marsh.
Gadwall (16) – cove, Eastern Point; drakes were strikingly beautiful in morning sun.
Mallard (~ 8) – Good Harbor marsh.
Ring-necked Duck (1) – drake, Niles Pond.
Greater Scaup (~ 50) – Niles Pond.
Lesser Scaup (2) – Niles Pond.
Common Eider – common.
Harlequin Duck (~ 30) – Cathedral Ledge.
Surf Scoter (6) – 1, inner Gloucester Harbor; 5, Eastern Point.
White-winged Scoter – common.
Black Scoter (~ 13) – ~ 12, Elks Club; 1 drake, Cathedral Ledge.
Long-tailed Duck (2) – Eastern Point.
Bufflehead – common; various.
Common Goldeneye (5) – 1, Eastern Point; 1, Niles Pond; 3, Elks Club.
Red-breasted Merganser – common.
Wild Turkey (4) – Rt 127, Rockport.
Red-necked Grebe (1) – Cathedral Ledge.
Rock Pigeon – mostly Motif #1.
Purple Sandpiper (3) – Elks Club.
Dovekie (6) – 1, Gloucester Harbor; 5, Cathedral Ledge.
Thick-billed Murre (3) – inner Gloucester Harbor.
Ring-billed Gull (~ 20) – Niles Pond.
Herring Gull – common.
Great Black-backed Gull (~ 20) – 5, Gloucester Harbor; ~ 15, Niles Pond.
Common Loon (~ 20) – various.
Great Cormorant (6) – "Cormorant Rock," Atlantic Road.
Bald Eagle (1) – immature soaring high over inner Gloucester Harbor.
American Crow ( ~ 15) – various.
Tufted Titmouse (1) – singing, Niles Pond.
Northern Mockingbird (1) – Good Harbor Beach entrance.
European Starling
House Sparrow