The south end of Parker River National Wildlife Refuge was closed this week, so on Wednesday, January 22, Dave Weaver and I sandwiched our birders in a nicely compact caravan and headed over to Salisbury Beach State Reservation. The young Red-tailed Hawk that "owns" the entrance road was there and in good form. Almost no passerines were around in the little thickets north of the campground, possibly because of a probable Sharp-shinned Hawk lurking in the trees. As we entered the parking lots near the boat ramp, ground birds flew past us and then back over us. Horned Larks! Savannah Sparrows and Song Sparrows found what they could on the parking lot surfaces and floating docks stored there.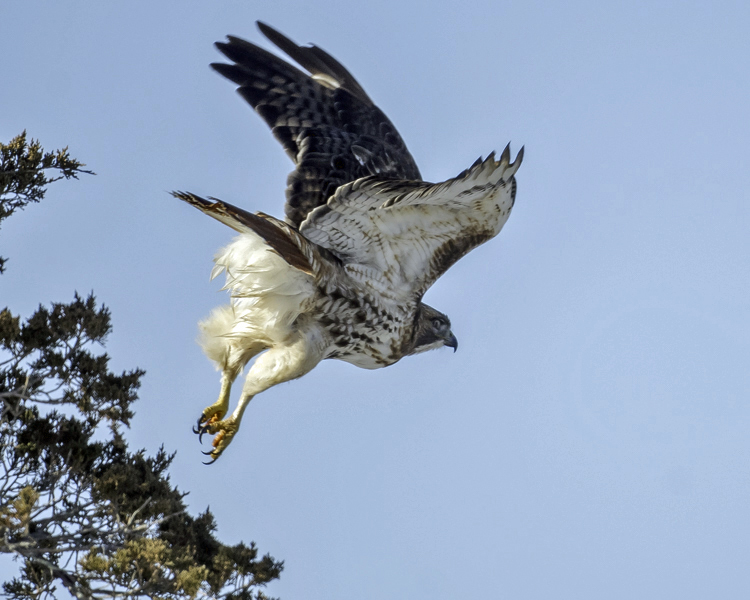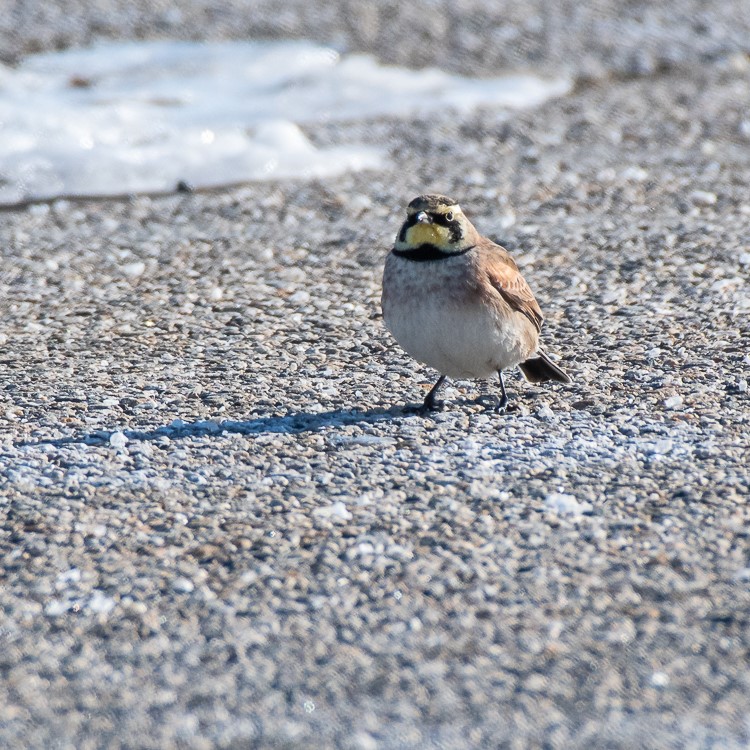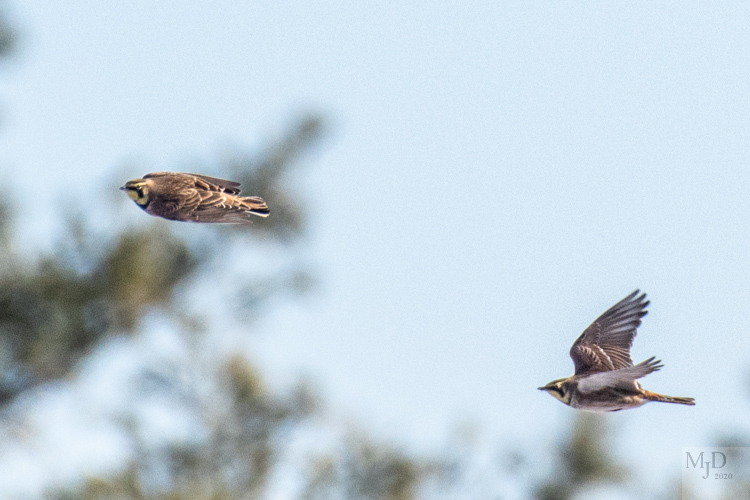 A young Bald Eagle sat on an ice floe headed for Portugal. It decided not to emigrate and took off to tour the river mouth instead. The Merrimack River and side creeks in Salisbury were fairly choked with ice, so we found few other birds at the ramp, other than a pretty little flock of Common Goldeneyes. In the marsh, Buffleheads and American Black Ducks abounded. There was much more to see at the jetty parking lot, with well over a hundred Common Eiders around the river mouth. Before long, we found a Snowy Owl perched way out on the north jetty. Some scoters and mergansers mixed together in the river near our spot, and a couple of Common Loons lounged and foraged in the ocean.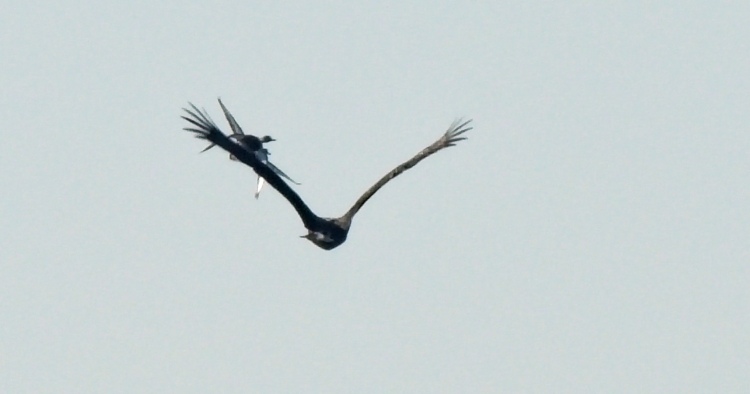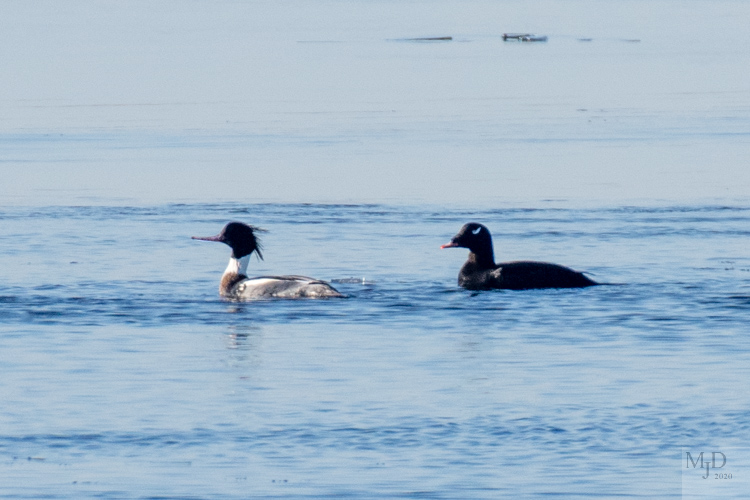 I wish we had stopped at the top of Lime Street to view the Eastern Screech-Owl perched in the entrance to its cavity across High Street, because it was certainly visible later that afternoon! Instead, we all managed to find our way to parking lot #1 on the Wildlife Refuge. Checking on the sea at the platform, we found Black Scoters and a couple of Horned Grebes. From our perch, we saw a Cooper's Hawk fly purposefully down the refuge road, and a Northern Harrier also went by.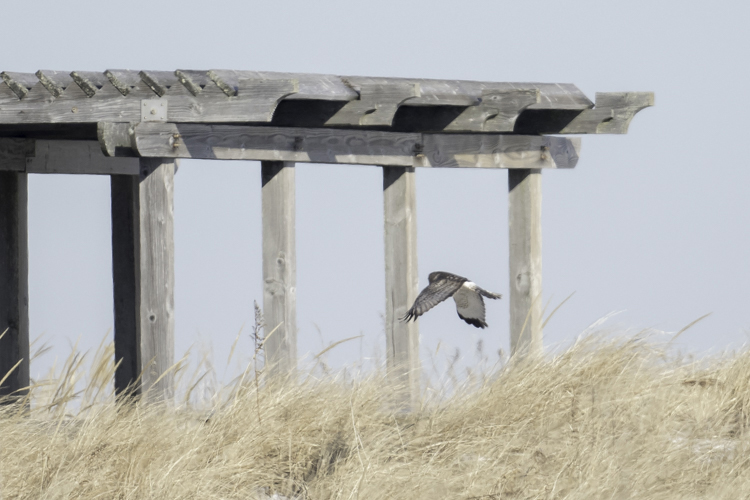 At this point we were pressed for time, and we had to hope something would happen between parking lot #1 and Hellcat. One American Robin in the S-curves. Nothing in the pannes. Nothing in The Warden's field or North Field. And then, BOOM! The Northern Shrike wintering at the south end of North Field sat teed-up, moving among the small trees there. Some of us got great looks at that bird; others, sadly at the back of the group, just got glimpses before the bird dashed off to be the rambunctious creature it is meant to be.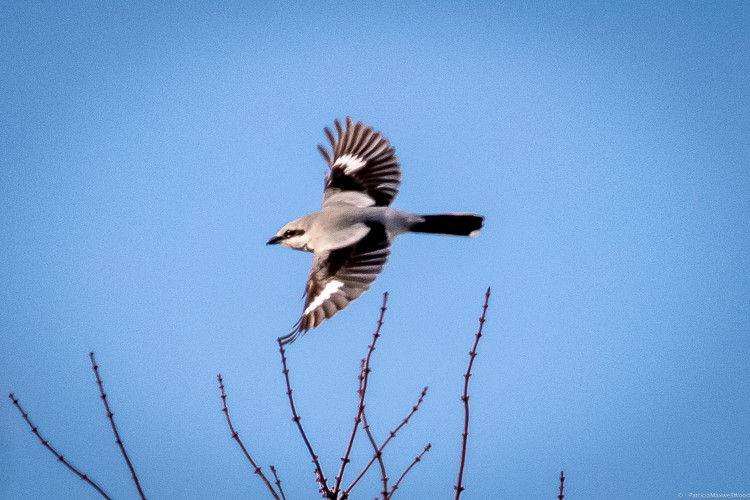 We did stroll up the dike at Hellcat, a bit sobered, I think, by all the elements of construction all around for the building of the new boardwalk. Some gritting of teeth will be necessary to get through this year of disruption, then to adjust to the changes in our familiar old haunts. After a few years of vegetation regrowth, the new facility will actually be much better for more people, and the sense of the thicket will return to what it always has been. I know I look forward to gliding out there with my friend who uses a walker. And I know someday I may need wheels and accommodated accessibility to the Hellcat boardwalk myself. Obviously, on Wednesday we did not find many birds up there, or I would have told you about that instead of subjecting you to these ramblings. We went home happy with sightings of the shrike and the owl and Horned Larks. Who knows what next week will bring?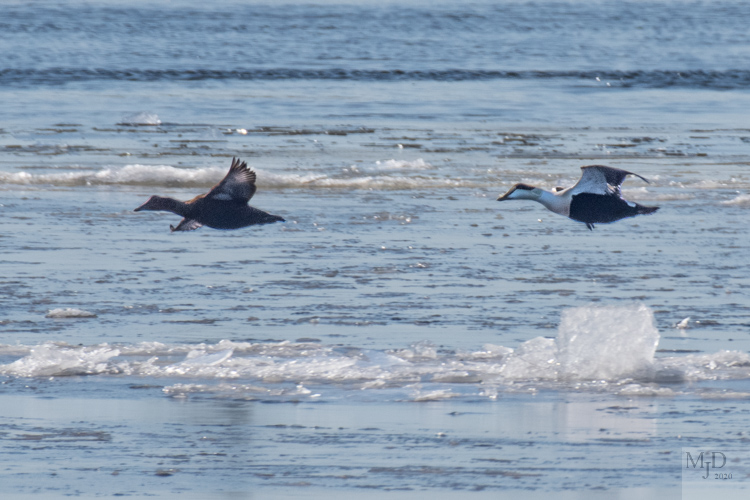 Our List:
Salisbury Beach —
American Black Duck – common.
Common Eider (~ 150) – mostly river mouth.
White-winged Scoter (6)
Bufflehead – common.
Common Goldeneye (5)
Red-breasted Merganser (~ 8)
Rock Pigeon
Purple Sandpiper (5) – jetty.
Ring-billed Gull – common.
Herring Gull – common.
Great Black-backed Gull (~ 6)
Common Loon (2)
Northern Harrier (1) – 1st-winter male.
Sharp-shinned Hawk (1)
Bald Eagle (1) – juv.
Red-tailed Hawk (1)
Snowy Owl (1) – on jetty, 75 yds from end.
American Crow (~ 5)
Horned Lark (7) – boat ramp parking area.
Northern Mockingbird (1)
European Starling
House Sparrow (1)
Savannah Sparrow (3) – boat ramp parking area.
Song Sparrow (5) – mostly boat ramp parking area.

Parker River NWR —
Canada Goose – common.
American Black Duck – common.
Common Eider (2) – one ocean.
White-winged Scoter (3) – one ocean.
Black Scoter (2) – one ocean.
Horned Grebe (2) – one ocean.
Rock Pigeon
Mourning Dove
Sanderling (9) – one beach.
Herring Gull – common.
Northern Harrier (1)
Cooper's Hawk (1) – flying south, parking lot #1.
Snowy Owl (1) – Salisbury jetty bird seen from one platform. *
Northern Shrike (1) – s. end North Field.
American Robin (1)
Song Sparrow (4) – roadside.