For me, one of the best things that can happen on a hike is finding an unusual animal, and there are many unusual animals that live on the MABA property. I see squirrels and chipmunks every day, but have encountered much bigger animals also. You will see many more animals when walking quietly. If you spot something running away from you, keep still because it might return later.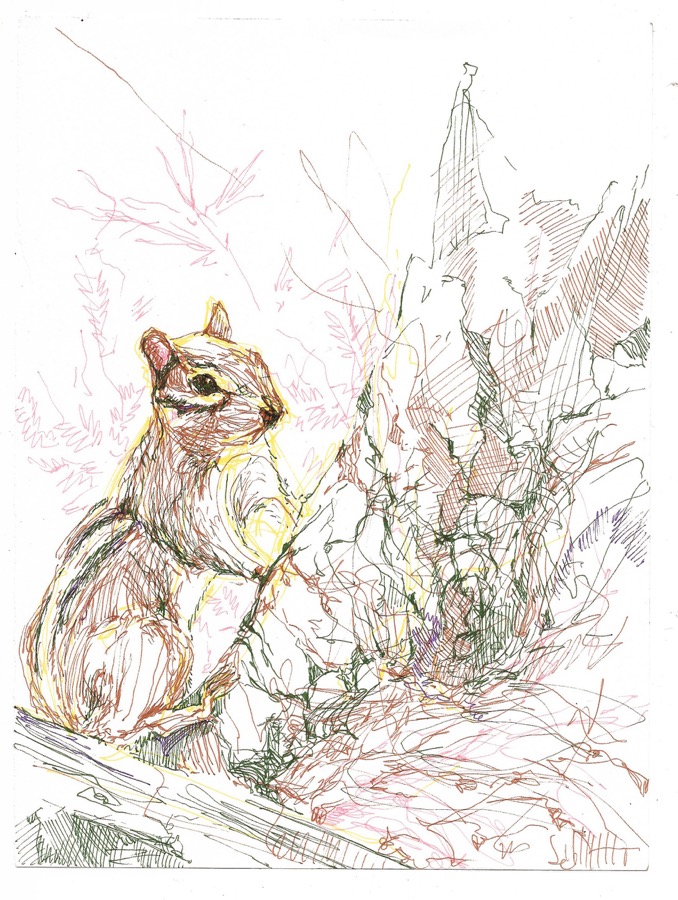 This groundhog (pictured below) waddled under the bird blind as I approached. Animals like this disappear quickly, so I have to have my camera at the ready.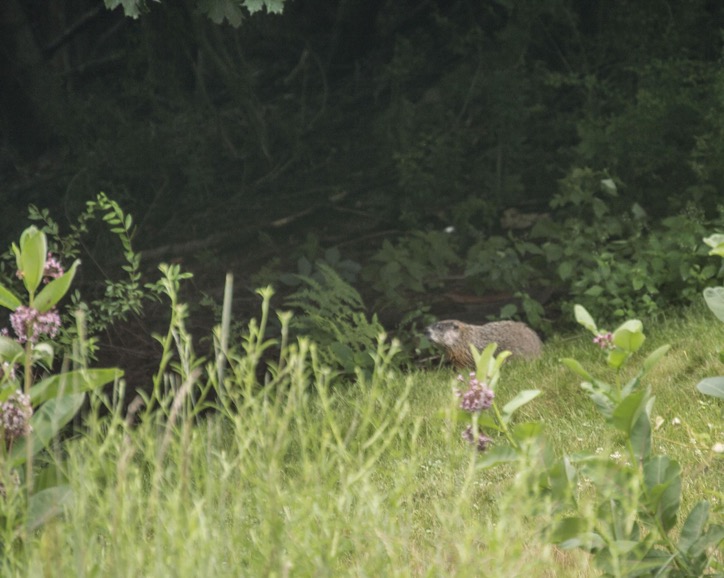 Groundhog among the milkweed
A more unusual spotting: while sitting by the pond on the Main Loop Trail at the back of the sanctuary, I noticed this American Mink run into an old piece of metal pipe. I waited quietly, and a few minutes later the mink popped his head out of the pipe, allowing me to snap the picture below. He then left the pipe and disappeared into the long grass. Minks are in the weasel family and have dark brown bodies with pink noses.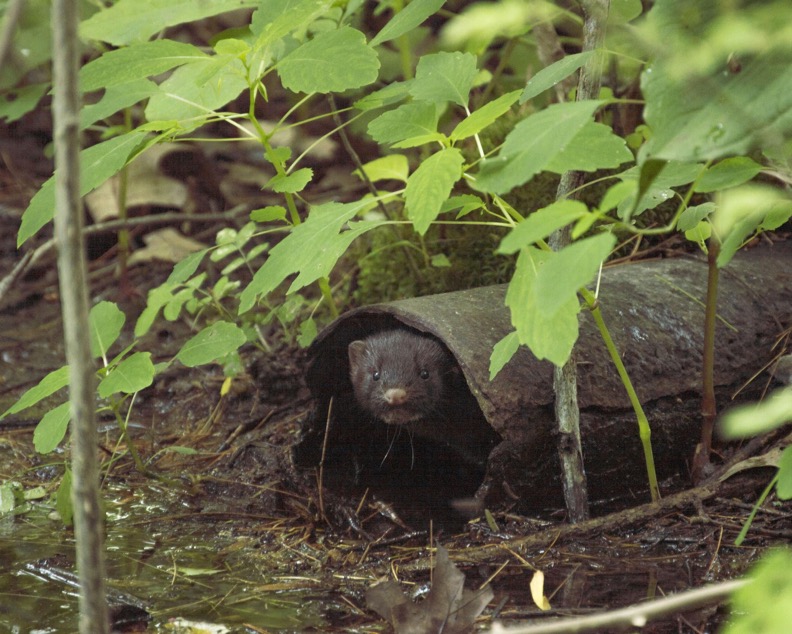 American Mink peeking out of a pipe
Last week, I crossed paths with this curious White-Tailed Deer. It initially ran away, but then came back to finish its meal. It continued eating while staring at me warily. I have found that one of the hardest parts about photographing woodland wildlife is getting an angle without branches blocking the way.
White-Tailed Deer while chewing its lunch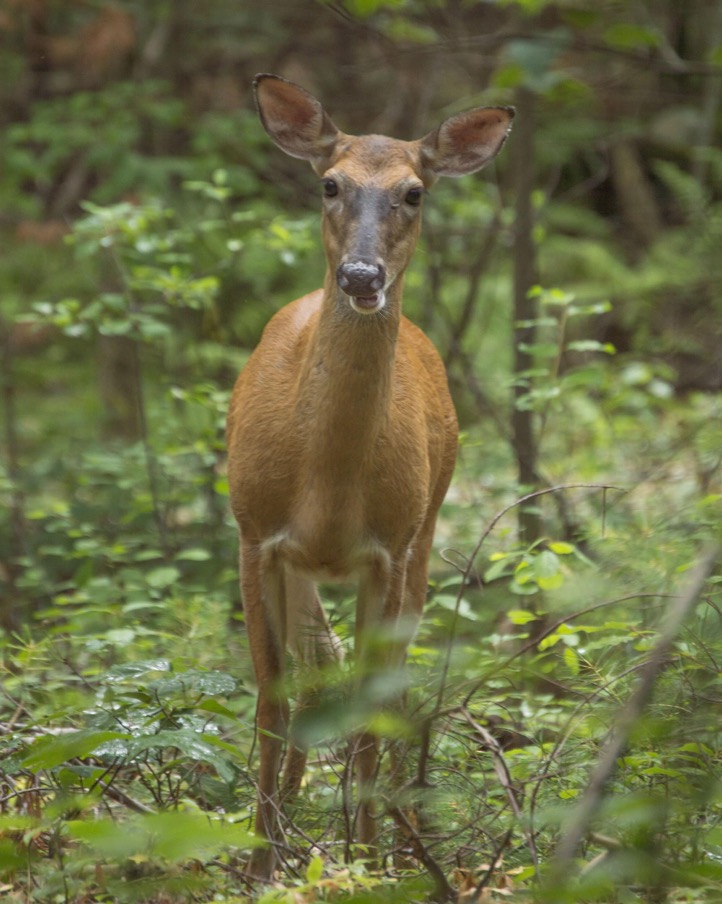 These deer photos made good reference images for a watercolor painting: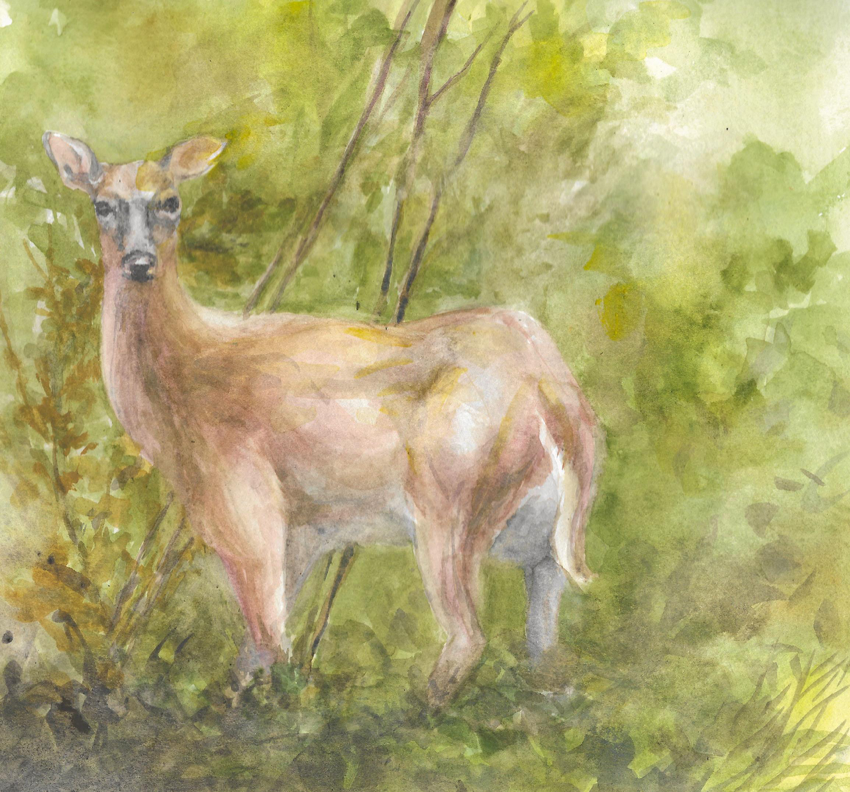 When painting realistic animals, it is important to pay attention to the shapes created by bones and muscles. They will help make the drawing seem more 3-dimensional. Below are some of the simple curves that show the shape of the deer: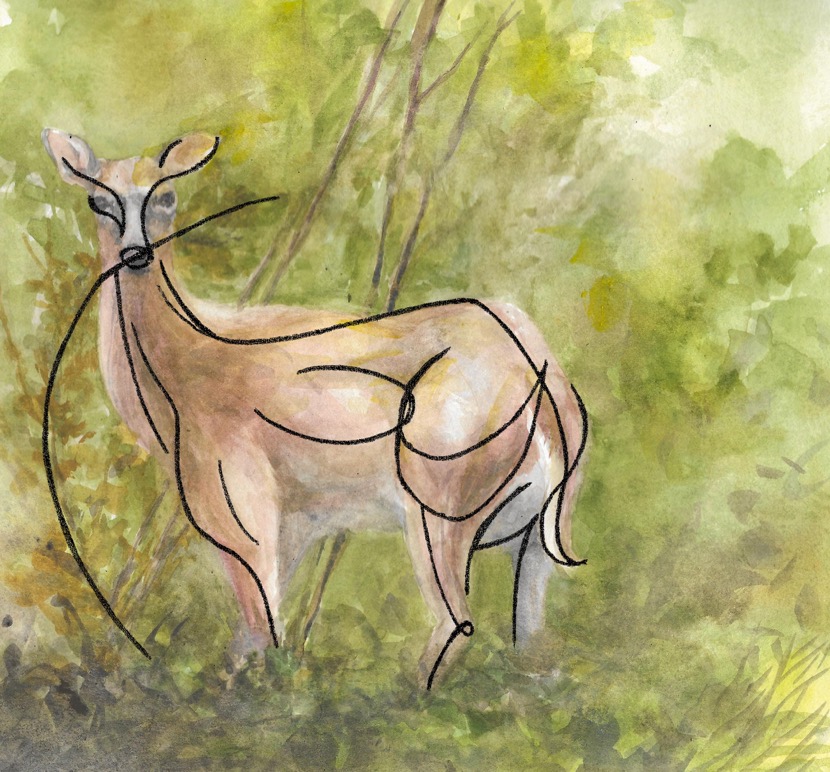 I paid special attention to the lines that show the neck twisting. The deer was turning its head to look at me, so I tried to capture that movement with curving lines. Paying attention to subtle motions like this can make your drawings come to life.
Strong diagonal lines make a painting more dynamic. I noticed that the deer's body had some lines that leaned to the left. To give the painting balance, I added thin tree trunks in the background that lean to the right.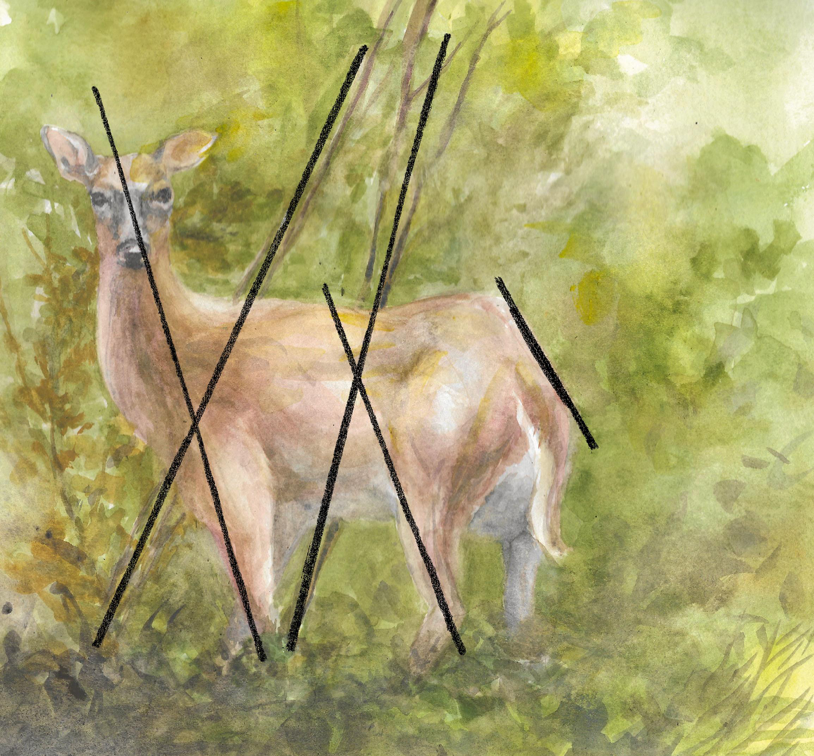 These unique animals all living so close together show that you don't have to travel far away to find some really cool wildlife. Keep an eye out for wildlife locally! Animals that live close by can be a great source of inspiration. 
My name is Maris Van Vlack, and I will be blogging for the summer of 2020! I am a rising sophomore at the Rhode Island School of Design, with a major in Textiles and a concentration in Drawing. I used to take homeschool classes at the Museum of American Bird Art and have had my artwork exhibiting in their Taking Flight Exhibit for young bird artists.
I am especially interested in working with unusual materials in my work, and am inspired by plants, animals, and the patterns found in nature. This summer, I will be creating a guide for the MABA trails with sketches and paintings. I will be recording and writing about my observations, and sharing them through these blog posts. Hopefully this will be an educational and inspiring resource, and will motivate you to sketch what you see when you visit MABA this summer!