At this time of year, a stroll from the Nature Center to the boardwalk can be particularly productive during early mornings or evenings.
Keep your eyes on the sky and trees. September and October mark the peak of fall migration for the smaller perching birds such as warblers, vireos, and flycatchers. It's also migration season for raptors and waterfowl that breed to the north and overwinter in warmer southern climes.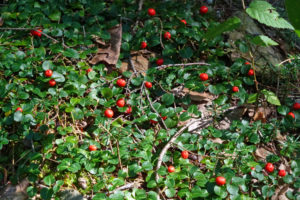 This is also the time when many of our native plants begin to ripen their fruits and change colors. Berries on Winterberry Holly begin to change to orange and red, while the hips on Swamp Rose turn from green to orange. These colors complement the yellows, golds, purples, reds, and crimsons of fall.
We highly recommend getting outside and taking a walk on the trails in the coming weeks. It's the perfect way to enjoy the exhilarating, crisp and clear days that mark the beginning of fall in these parts.
---
Find out what else Mother Nature has in store this month with Mass Audubon's Outdoor Almanac.