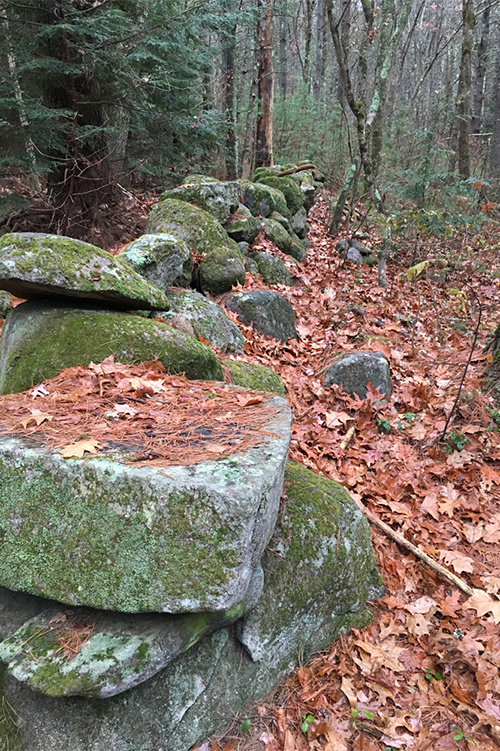 November is a time of transition around Stony Brook. Most of the leaves on our deciduous trees will have fallen (or at least turned brown), opening and expanding views into the landscape and exposing both bird and insect nests that had remained safely hidden all summer long.
Of course, this is also the month when we "fall back." On November 3, we'll shift our schedules one hour earlier to account for the change in Daylight Savings Time. Coupled with shorter days, the time change means we'll start spending more time outside around dusk and after the sun has set. Keep an eye out for winter moths fluttering about during your travels late in the day. Only the males can fly, but their abundance may foreshadow the intensity of their damage to our forest next spring.
The local bird populations change, too. With fall migration largely complete, the mix of species around us has transitioned from birds that breed in Massachusetts to those that overwinter here. We typically enjoy an influx of ducks such as Green-winged Teal and Bufflehead in November, both of which travel from their breeding grounds in the Far North to more hospitable wintering grounds further south.
Toward the end of the month and into December, Great Blue Herons will become scarce as the ponds and wetlands begin freezing up, depriving them of their hunting grounds. Insect eating birds like Tree Swallows and Barn Swallows will be gone, replaced in part by seed eating sparrow species like White-throated, Fox, Chipping, and American Tree. Dark-eyed Juncos will also start returning from their breeding grounds to spend the winter visiting our feeders.
That said, we still look forward to enjoying a few more beautiful fall days before the onset of winter, and November should have more than its share. For the time being, you can still favor your hiking boots over your snow boots. Enjoy!
---
Find out what else Mother Nature has in store with Mass Audubon's monthly Outdoor Almanac.