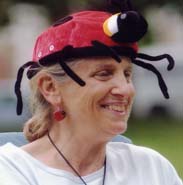 A woman as diverse and colorful as the outfits she wears with pride, Carol Bailey has graced Stony Brook Wildlife Sanctuary with over 44 years of service! Carol first came to Stony Brook when she began her career as a biology professor at Dean College. At first, she became involved with the Stony Brook Bird Club, the Stony Brook Camera Club, and the annual Fall Fair as a volunteer. Then, in the 1980s Carol began to offer her strengths as a teacher by working as a part-time naturalist for field trips and/or birthday parties. Unfortunately, health problems prevented her from continuing her naturalist guide work along the sanctuary trail. Never accepting limitations, however, Carol has continued to share her passion for teaching and the natural world as a weekend docent stationed along the trail, out on the boardwalk, or at the sanctuary building check in.
Carol has an encyclopedic knowledge of natural history that courses through her veins and is always willing to share what she knows. At a very young age she was drawn to the natural world and sought answers to her many questions about the local ecosystem. She laughs recalling her insatiable curiosity saying, "If I could carry it, it was coming home!" This same childhood curiosity and sense of wonder is what she imparts to every volunteer she mentors or visitor she engages. She had the good fortune to have parents who nurtured and encouraged her in her desire to know, and feels that she should do the same. She recalls fondly how her father would bring home salvaged cages and aquariums to house her new discoveries. As a classically trained musician, Carol's mother would help her to see the beauty of nature through the sounds and notes that filled the air. These early experiences contributed to her seemingly innate ability to stir the same wonder and enthusiasm in her visitors to the sanctuary today.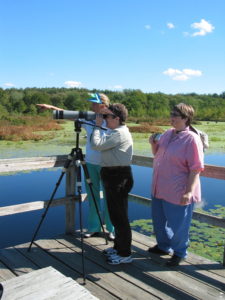 As I sat down to interview Carol, I came to appreciate the strong and independent woman that she is. Born in the "Baby Boomer" years, Carol was a woman who looked beyond the social norms of her day unafraid to blaze her own path. In fact, in 1988 she became the first female service line umpire for Centre Court Wimbledon (a task considered "too difficult" for women), and later that same year she held the same post in the Olympics in Seoul Korea. Indeed, her honors and interests have been incredibly diverse over the course of her life. She was, for example, a Peace Corp volunteer in Ghana, West Africa, an inductee into Muhlenberg College's Athletic Hall of Fame, a taxidermist, and the only Girl Scout to be awarded the reptile and amphibian badge for the Mid-Atlantic area. When asked to define what motivated her and her ambitions, she replied with simple wisdom, "If you have a passion, you just do it!"
I hope you have a chance to meet Carol, look for her on most sunny Sunday afternoons at the sanctuary, either inside or outside. She is affectionately known as the "Nature Answer Lady" and is apt to be adorned with very colorful attire. Be prepared for any question directed her way; if she does not have the answer, she will take you on a journey to discover one. That has always been her way. If you are interested in becoming a docent, perhaps you will work with Carol as a mentoree and have a chance to witness her genius in person. If you wish to learn more about how you might volunteer at Stony Brook, see this link. Come to Stony Brook today and tap into your own childhood wonder. There is no place like it.