The focus has been on our new and renewed nature center this past year.  It's time to branch out into the sanctuary.
You don't have to go far this season to find wonderful stories.   All these are within 1/4 mile of the nature enter.
Skim ice forms overnight.  Look for frozen air bubbles and crystal patterns below the boardwalk.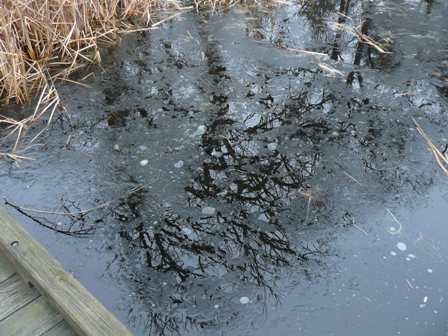 Look closely into tangled leafless branches to spot birds like this White-throated Sparrow.  Head stripes and yellow lores between the eye and bill are just visible.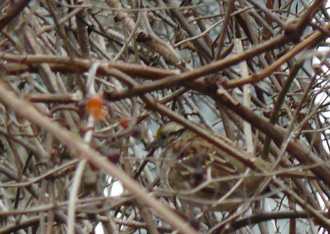 Winterberry Holly (Ilex verticillata) can be seen on wetland edges and in the native cultivars garden behind the nature center.  As food becomes scarce, flocks of birds like American Robins will devour all the berries in minutes.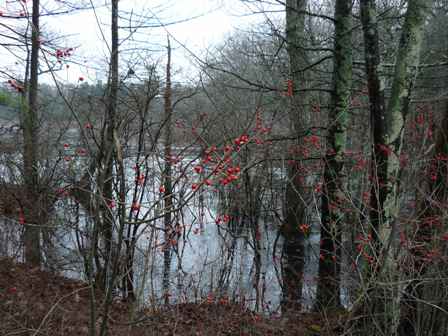 Cattail seed heads are visible above the wetlands.  This one was visited by a bird, perhaps   a downy Woodpecker or Black-capped Chickadee.  It was torn apart to get to the insects sheltering inside for the winter.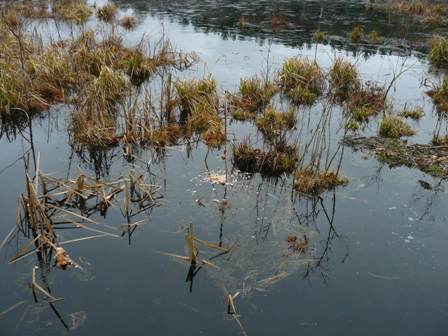 Before the ice gets too think to break, beavers will be carving down trees to repair dams and lodges.  Look for fresh "chews and chips."