February is not quite over but winter weather continues to make Broadmoor beautiful with scenic landscapes, snowshoeing and skiing.  As long as you're dressed for the conditions it is a wonderful outing.  What are the conditions?  Call our friendly visitor services staffer at 508 655-2296 for an update.  Follow yellow blazes on the trees to bring you back to the nature center.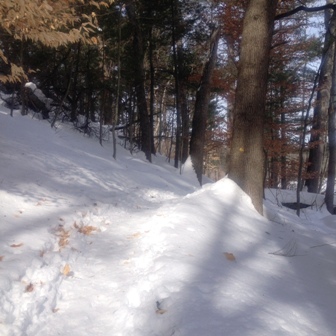 The marsh boardwalk is about two feet under the snow.  The marsh is a great place to look for animal tracks and hunting hawks soaring overhead.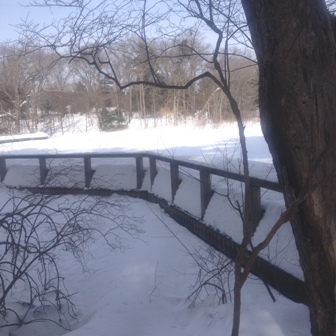 Believe it or not, there are 128 photovoltaic panels on the nature center roof.  When sunlight can reach them they produce 12 KW of electricity per year.  Right now, the panels are under snow and Broadmoor's electricity is being drawn from the grid.  Fortunately, snow has tumbled off the sunspace on the right in the photo below and our "solar furnace" heats up to over 80 degrees, a direct source of heat for the building.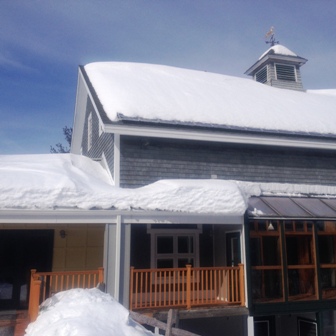 Want to know more about the weather?  Join WCVB-TV chief meteorologist Harvey Leonard for a talk, videos, questions and answers at The Center for the Arts in Natick.  Broadmoor is sponsoring the annual Jean and Henry Stone Memorial lecture Sunday, March 29, 4 – 6 pm.  The event is free and open to the public.