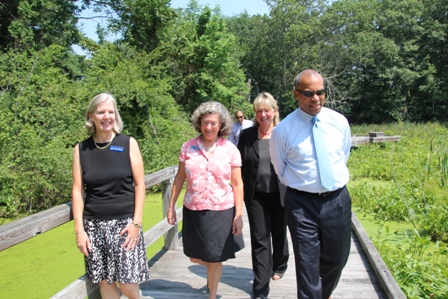 After 14 wonderful years, this is Laura Johnson's last day as Mass Audubon's president. When she announced early on in 2012 that she was planning on stepping down, we got to thinking about all the she helped the organization accomplish under her helm.
Recently, when Mass Audubon staff members gathered together for our annual staff meeting, we got the opportunity to share some of those accomplishments. Here are just a few highlights:
Opening of an additional 16 wildlife sanctuaries across the state.
Protecting huge tracts of land! More than 10,000 acres of land protected across the Commonwealth.
Making Mass Audubon more accessible for all to enjoy with universally accessible public facilities at most of our staffed wildlife sanctuaries and many fully accessible and multisensory trails.
Completing the State of the Birds report, a comprehensive overview of the status of all of our breeding and wintering bird species, thereby laying the foundation for a reevaluation of the Commonwealth's bird conservation strategy.
Supporting four urban environmental education centers engaging over 49,000 participants annually from underserved populations across the state.
Initiation and implementation of the Important Bird Areas (IBA) Program.
$140 Million raised to protect the nature of Massachusetts
Thank you Laura, for all you have done for Mass Audubon, Massachusetts, and beyond.
Read more about Laura's experience with Mass Audubon in a Boston Globe Q&A as well as an article in the Boston Business Journal.
Photo: Laura, left, with Broadmoor Wildlife Sanctuary Director Elissa Landre Massachusetts State Senator Karen Spilka, and Governor Deval Patrick.