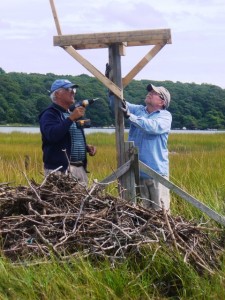 We rely on volunteers for our Osprey monitoring and platform maintenance efforts. Join our Osprey team!
Some volunteer tasks include:
Monitoring the nesting platforms by land using a spotting scope (March through September, ongoing)
Building new platforms to replace damaged/old platforms (year-round)
Repairing old platforms (especially if you have a boat!) (March, April, September, October)
Helping with outreach events, like Ospreyfest (May)
Updating our GIS-based maps
If you would like to learn more,  please email Volunteer Coordinator/Osprey Monitor Jennifer Costa or call Allens Pond at (508) 636-2437.