With our new "Know Your Food" interactive exhibit just opened for exploration and play in the Learning Garden, we thought you might be curious about what goes into designing, building, and installing a new exhibit. In this week's blog post, Renata P., our Visitor Education and Interpretation Coordinator, gives a behind-the-scenes look at how exhibits come to life at Drumlin Farm.
Our "Know Your Food" exhibit started with the generous commitment of a long-time Drumlin Farm visitor who had always enjoyed how the "Egg Machine" exhibit in the Poultry House combined learning and play for her young children. With the broad but inspiring request of "build something in the garden that teaches kids where their food comes from and also lets them play," we launched a multi-year project to bring a new interactive exhibit to the Learning Garden.
Drumlin's "Interpretive Work Group," a cross-functional team of six staff members, oversees the development of all signage and exhibits at the farm. Often our discussion topics are simple new sign requests (a sign to identify a new building, for example), but this project would be a major undertaking.
We began with a visioning workshop led by our collaborator Linda Ziemba of Trace Designs, to articulate our goals and objectives of the new piece. The charge from our donor had instantly reminded me of this old-fashioned letterpress greeting card that I had received from one of our Drumlin Farm teachers several years before, and so this was the starting inspiration for our workshop: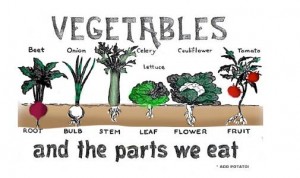 Two hours later, we had agreed on our vision: The goal for this interactive is to connect visitors, specifically kids, to our food – where it comes from, what parts we eat and the planting, sorting, stacking etc. that goes into being a farmer.
From a practical standpoint, we also determined that the piece would need to incorporate shade, seating, and space for programs. With those guidelines in mind, we brainstormed to come up with design concepts that could meet the objectives in a variety of ways, focusing on how people might interact with the structure of the piece. Linda's genius lies in taking all the words, thoughts, and vague ideas that our staff comes up with in brainstorming sessions and turning them into concrete concepts. Her concept sketches let us start thinking about the "how's" alongside the "what's" of an exhibit. Here are a couple of our favorite concept sketches for the piece:
From there, it's time to get practical and think about what can work within our budget and space requirements. That's where our builder, Jonathan Hondorp of Aries Custom Works, comes in. In another brainstorming meeting, we talked through each potential concept and how it could be brought to life. Jon's sketches are more technical and incorporate the realities of physical movement, dimensional lumber, and what can withstand hours and hours of play by Drumlin Farm visitors.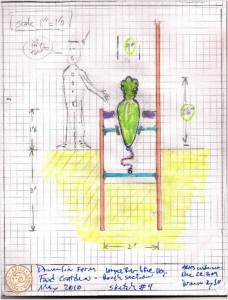 After much discussion, we ended up with a single design concept that we knew we could build, again wonderfully illustrated by Linda: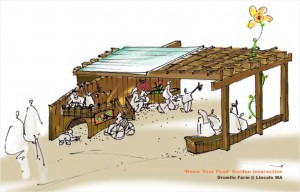 Jon took the final concept sketch and came up with shop drawings showing exactly how the piece would be built. We poured over the drawings from a cost, durability, and safety perspective, making sure that every aspect met both our own high expectations and requirements for safe children's playground construction.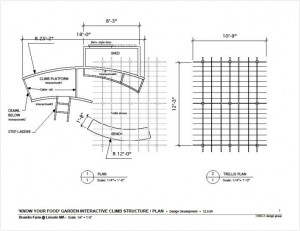 From there, it was on to the details.  We knew we wanted a giant carrot in the exhibit, for example, but what kind of carrot? Is it a Bugs Bunny carrot or a Burpee Seed Catalog carrot? It took several iterations with our illustrator, each carefully reviewed by the crops and education staff, to come up with the perfect Drumlin Farm carrot: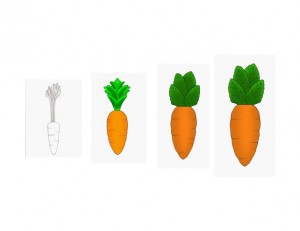 Hours of writing, editing, and rewriting took place to make sure that the final text on the written portions of the exhibit was clear, accurate, interesting, age appropriate, and could fit in the space available. The exact word count also matters, since each line of text needed to fit under a small illustration.
Other details took some research. I think I'm one of the only staff members who gets to go on eBay for work purposes, trying to find authentic tractor steering wheels and seats to bid on so Jon could polish them up and attach mounting hardware. I also spent hours sourcing kitchen drawer pulls that could serve as little moveable tomatoes for the "Farm to Fork" puzzle track.
Meanwhile, over in the workshop, Jon worked on building the main wooden structure. The piece looks larger than expected because nearly half of it was to be buried underground, a clever way to construct a straight, durable, frame that didn't require concrete footings.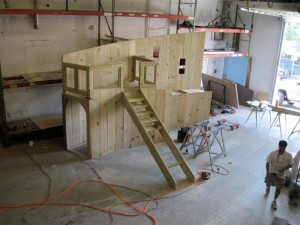 The giant vegetables were the key to the "play" aspect of the exhibit and required extra prototyping to come up with a construction method that could withstand the playful efforts of the 100,000 visitors per year that come to visit Drumlin Farm. Cardboard models were used to determine the best size and proportions, then the core of each shape was sculpted in foam.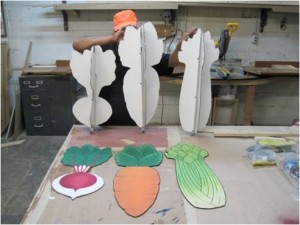 Jon has a team of folks with different art and construction specialties who worked to bring the piece together. One of our favorites is the ever-patient Tim, who painstakingly sculpted individual celery leaves and corn kernels out of an epoxy resin, and then painted them to match the artwork.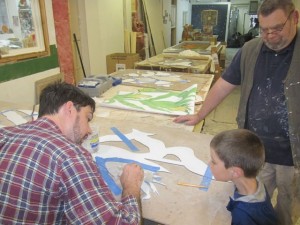 Testing is an important step to ensure that the different components of the piece are kid-friendly in both size and durability. I am lucky to have two personal kid testers who love to make a trip to Jon's workshop, where they are encouraged to kick, drop, hit, and abuse the exhibit pieces to really give them a workout. We look for any sharp edges or pinch points that need to be fixed. We also check that the size and height of different elements is appropriate for the target age range – for example, was the underground tunnel the right fun size to crawl through?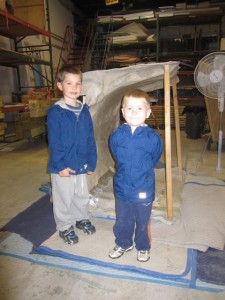 The results of one test surprised and delighted us – my five-year old wasn't big enough to lift the giant celery yet, but he could manage the beet and the carrot. Although we didn't plan it that way, we loved that the vegetables provided a gradated challenge to kids to grow in to – motivation for repeat trips to the farm!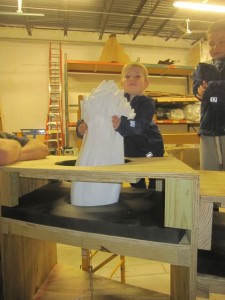 Finally all the pieces were ready. Step 1 of installation: dig a really big hole. Visitors to the farm that day were treated with excavators to watch alongside the farm animals.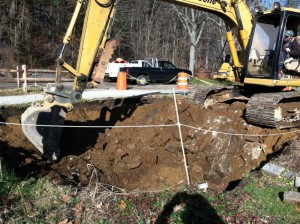 Jon's crew moved on site for a week to get the piece in the ground, aligning all the individual back wall sections and bolting them to the main frame. The giant veggies, tractor seat and wheels, underground tunnel critters, and other components were added little by little. The hole was filled back in, and woodchips and new plants were added to finish the new landscape.
Finally it was all ready for the most important step: play time! The Drumlin Farm Community Preschool had the honor of being the first to try it out, and it was so thrilling and rewarding to see them playing and discovering all the elements we had spent so much time developing. Three years in the making, and we can't wait for you to come and enjoy it. Be sure to stop by on your next visit!