Strawberry Day Has Arrived!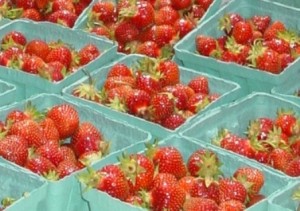 Strawberry Day, one of our favorite harvest days at Drumlin Farm, has come at last! Join us tomorrow, Saturday, June 16, and explore the farm in full berry bloom. Enjoy berry themed crafts and activities, wildlife demonstrations, and samples from our farm stand. The farm is open 9 am-5 pm, pick-your-own strawberries (priced separately) between 10 am and 2 pm, while supplies last. Click here for the day's scheduled events. Happy picking!
Camp Nostalgia From a Former Drumlin Farm Counselor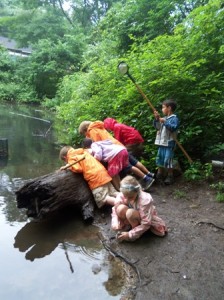 Summer Camp at Drumlin Farm is on the horizon, and as I watch all of the exciting preparations taking place I can't help but be transported back to my time as a counselor here on the sanctuary.
Years ago I had the privilege to teach, play, and grow with Drumlin Farm's Pre-K and Kindergarten summer camp age group: the Pathfinders. Together we investigated the sanctuary's many nooks and crannies: milking cows and making butter and ice cream, hiking trails on wildlife evidence adventures, building gnome homes and fairy houses in the woods, carding and spinning wool, exploring the wetlands for frogs and salamanders, visiting with turtles and owls and crows,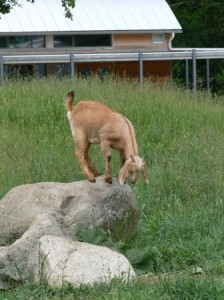 planting and maintaining the community garden, composting, constructing our own web of life, grooming Midnight, creating farm and nature crafts, singing, telling stories, playing games (Predator vs Prey!), and so much more. Over the summer, we became a community of people focused on the interdependence of all living things, and valued an ethic of conservation together.
As a counselor at Drumlin Farm I helped to inspire a sense of wonder and a cache of knowledge in my wide-eyed, enthusiastic campers about the connections between farms, natural habitats, and people. In turn, they helped me be a more passionate teacher: at the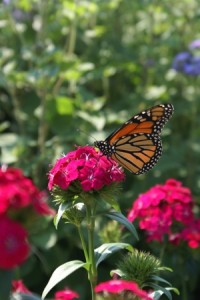 end of the summer, I was in awe of children's desire to explore and discover (especially when they begin to recognize that they are part of an experience that is greater than themselves).
Drumlin Farm is a magical place. I am lucky to be able to play a part once again.
Have a great weekend!
Sarah