Hi all,
Some late plantings of radish, bok choi, broccoli raab, tatsoi, cauliflower and lettuce have allowed us to continue harvesting this past week and sell to markets and restaurants in the city. Restaurants Rialto and the South End Buttery have been buying our produce, as well as Whole Foods and Lionette's markets. Thanks to Ellie for contacting these various outlets, and thanks to Anne, Pay and Fred for helping with the harvests.
We are getting mentally prepared for next Thursday's first winter CSA distribution. It may be the biggest distribution of the year (summer included) in terms of weight, because the root crops are heavy—and there are lots of them—and because we still have field greens to bring in. This Thanksgiving our CSA members will be enjoying Drumlin's potatoes, carrots, beets, parsnips, squash, pumpkins, onions, garlic, sweet potatoes, turnips, kale, collards, cabbage and Brussels sprouts. We'll hold off on the rutabaga and various storage radishes for now.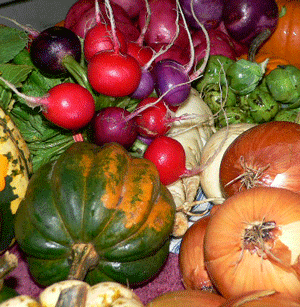 So far this season we've donated over 11,000 pounds of food to local charities. The Little Sisters of the Poor were at every one of our Saturday markets and took over 4,500 pounds of food to feed the elderly at their nursing home in Somerville. On Thursdays in Mission Hill, we ended each market with a stop at the ABCD Parker Hill/Fenway Neighborhood Service Center. That organization runs a food pantry three days per week. We donated over 3,500 pounds of produce to them. Concord Open Table came by the farm each Wednesday after the close of the CSA distribution, and took 2,800 pounds of food to serve at their Thursday night dinners. The Boston Area Gleaners have started combing over our fields, and so far have harvested over 200 pounds of greens for area food pantries.
We noticed a big jump in the number of WIC coupons spent at both of our city markets. For the past two years, people using WICs accounted for about 3% of our sales. This season the percentage is closer to five, representing about a one third increase in sales through this program. I'm not sure if the growth indicates an increase in the number of qualifying families or an improvement in the visibility of farmers' markets to this population.
This year at Mission Hill, Main Streets—the organization that manages the market—had a grant to operate an EBT machine. The card reader converts food stamps into vouchers that patrons spend at the market stalls. By the end of the season, people were catching on to the availability of the card reader. Hopefully, the funding will exist next season so that Main Streets can continue to employ a person to run the program and we can continue to accept food stamps.
Matt