FOOD IN THE NEWS:
Below are a two links to recent articles on sustainable farming, food justice, and food security. These are issues that have always been important, but are just now gaining media attention.
Secretary of Food
New York Times, Dec 11, 2008 By NICHOLAS D. KRISTOF
Michael Pollan's Open Letter to the Next Farmer-in-Chief
New York Times, October 10, 2008
The veggie of the week is daikon (which will be in CSA members' shares this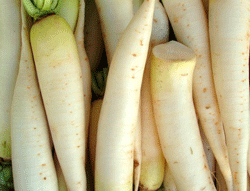 week). Here are some great ways to enjoy this storage radish.
Raw:
Daikon Chips: Peel daikon with carrot peeler (optional step). Cut into thin circular discs. Dip into ice water to make them curl. Serve on a plate with hummus or your favorite sour cream/ yogurt dip!
Grated Daikon: Grate raw daikon with a cheese grater. Sprinkle over salad, miso soup, or tuna cooked Japanese style (raw on the inside, fried lightly on both sides in soy sauce).
FOR CSA MEMBERS ONLY
I hope you are enjoying all of your veggies from the farm.  I fell in love with one of our vegetables last week- the red meat radish!  I ate it for the first time–sliced thinly, sautéed with olive oil, onions, and collard greens, and put over pasta.  Besides the fact that I was stunned by it's bright red flesh (what a contrast to it's dirty, white exterior),  I loved the sweet only slightly peppery flavor. Who knew storage radish could be so good?   Matt likes to shave off the thin white outer layer and only cook the red interior. If you do that the radish resembles tuna sashimi, purplish when cooked and perfectly tender.  
This week's share includes a new radish- daikon! Over the next four weeks we will be alternating daikon radish with black radish.   Daikon is a super-food!  It contains the active enzyme myrosinase that aids digestion, particularly of starchy foods.
See you Thursday,
Ellie
This week's pick-up: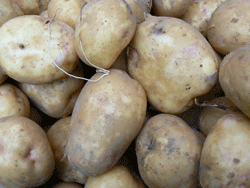 Beets

Cabbage – last week

Carrots

Celeriac

Parsnips

Potatoes

Butternut Squash

Queensland Blue Squash (for full shares only) – last week

Daikon Radish

Turnips
–Posted by Ellie, Drumlin farm crops apprentice