Farming in the winter in Massachusetts seems like an oxymoron. What could vegetable farmers possibly be doing once the cold weather sets in? Farming in the spring and summer months makes sense to people. The sun is pouring down on us and everything is green and growing. Tomatoes, corn, and watermelon are plentiful and farmers are working from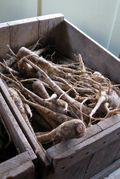 sun up to sun down harvesting. In the summer at Drumlin Farm, we have our Summer CSA and a daily farm stand. In Boston, we participate in two farmer's markets. 
This summer, as a farm apprentice, my body was sore from all of the harvesting and lifting and planting and weeding.  But as the fall came and went, and I decided to stay on at Drumlin Farm through the winter, many people asked me "So, what do you do now?" 
As Matt, the farm manager here, shared with me one day, the winter is about planning and vision, the summer is all about implementation and action.  During the winter we have the time, when the fields are closed and everything is quiet, to change the things that didn't work during the season and build upon the things that did. The crop plan, which is a spread sheet divided by crop, then by variety, and then by seeding dates, is updated and tweaked.  Tasteless orange tomato? Let's put in a new yellow one called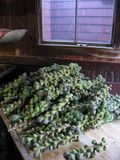 Taxi that was recommended by a local farmer. Too much basil at one time and not enough at another? Change the seeding dates. 
Sometimes we add in a new, exciting crop (small orange Turkish Eggplant, anyone?) just because it's that- new and exciting. Crop by crop we review what worked and what didn't and hope that our changes will be an improvement next season. This is also where the art of farming comes in. With many years of farming experience, Matt has a feel for what definitely needs to be changed and what may have just been a product of the  weather and challenges of this particular season. After the crop plan is finalized, seed ordering begins. Johnny's Seeds, Fedco, and Totally Tomatoes, are just some of the suppliers we use. 
The winter months also bring our Winter CSA, which of course takes lots of planning and on the pick-up days, lots of hauling and setting-up and lifting boxes of veggies out of our root cellar. A big part of the Winter CSA is our greens share, and our volunteer Anne is in the greenhouse 5 days a week seeding new greens and lettuces. On the pick-up days we spend about two hours cutting and bagging the greens.
And of course, lots of cleaning and washing and storing happens during the winter. We also spend time making new price cards, ordering new Drumlin tote bags, packing up all of our bins and totes, all things that are necessary, but can seem tedious. One of our Winter CSA members asked me last week what we do in the colder months on the farm. When I told her about all the cleaning and prep work for the next season, she shared how, as a home gardener, she has the same stuff to do just on a much smaller scale.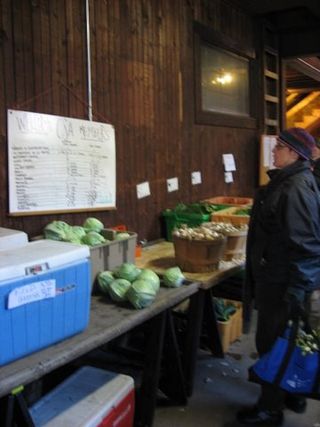 My favorite winter farming activity is collecting soil samples. Every season, before the ground freezes, we collect soil and send it off to the University of Massachusetts to get the pH and nutrient levels tested. This is when I feel like a surveyor, carrying only a narrow metal core sampler and a bucket, out in the quiet open fields.  We collect 9-12 soil cores from each of our 15 fields. Walking through the rye cover crop, the straw where the tomatoes used to be, and the dry and yellow oat grass, my boots crunch and sink. In the last field, after I collect the last sample, I lay down in a bed of oat grass, my warm breath condensing in the cold air, and I watch the blue sky as the tips of the grass sway over me.
– Posted by Ellie