Berry Bonanza- Coming Soon!
Before you know it Strawberry season will be here (including the pick-your-own day at Drumlin Farm on June 16)
Quick Strawberry Topping
(works with any quantity—adjust according to taste)
Wash berries (immediately before using or else they will turn mushy). Separate berries into two bowls. Berries in one bowl should be cut into quarters. Berries in the second bowl can be mashed (or run through a food processor or blender). Add sugar sparingly to taste. Add a teaspoon or more of lemon juice (to taste). Finely diced mint leaves add a nice flavor as well. Mix diced berries with crushed berries and let sit. Serve over biscuits with fresh whipped cream.
A Friday Morning Greeter
"Gobblegobblegobble!"  What was that?
I looked up from my desk at the Nature Center this morning, just as the farm was opening for visitors, and saw this huge and beautiful tom turkey in full plumage, stomping his feet and scraping his spurs. There were two hens close by, pecking at yummy treats in the grass.  Mr. Tom was putting on quite a show for them, wattle bright red, bold and proud, strutting his stuff.  The day's first visitors to the farm were delighted to be greeted by his regal display!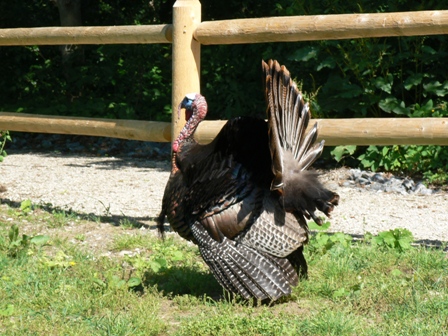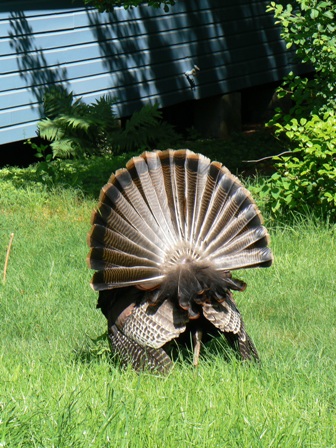 Reminder: Join us for Dairy Day! Saturday, June 9, from 10 am to 4 pm. Try your hand at making butter, cheese, or ice cream in our new Farm Life Center kitchen. Or catch one of our cow and goat milking demonstrations. Delicious local ice cream will be for sale!  All activities are free with paid admission or membership.