When you take a walk are you seeing shredded leaves on the ground and small hairy caterpillars raining down on you?  Or is your car covered with droppings and leaves?  That's called frass and it is produced by gypsy moth caterpillars.  Last fall the adult moths laid eggs on tree trunks like these in Hopkinton.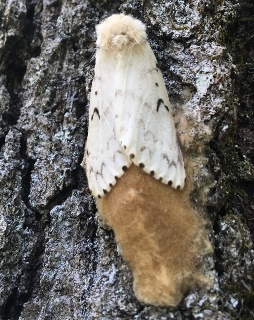 This spring they hatched into hairy caterpillars.  Hairy caterpillars are not the favorite food of many birds, but there are a few, notably the cuckoos, who find them tasty.  The result is many birders have seen and heard cuckoos this year especially where caterpillars are thick.  This yellow-billed cuckoo was seen at Waseeka sanctuary in Hopkinton.  They have also been seen and heard at Broadmoor.
These two images show the yellow bill, eye mask and striped tail.  Thanks to Cheryl Rose for sharing.